Our Scholarship Fund is aimed at young people in the Global South who would love to learn about new cultures and languages and get involved in a local community. Only they do not have the financial means to do so. By donating to this fund, you make this possible and strengthen our South-South cooperation, but also support our National Committees in the Global South.
Provide scholarships for young people from the Global South
Volunteering means broadening your horizons and learning new skills, but also sharing and exchanging experiences with the local community. Perhaps you have already experienced this and remember it as one of your best memories in life. However, our South-South cooperation, where we send young people from one country in the South to another, has declined in recent years. In fact, only 3% of our projects are now South-to-South volunteering. And why is that? Insufficient funding and high costs.
Make voluntary work more inclusive and support our National Committees in the Global South
There are not many funding opportunities for volunteering in the Global South, at the same time the costs for South-South volunteering are much higher than for example in Europe, because there are e.g. no direct or cheap flights, etc. This makes it very difficult for a young person from the Global South from a low-income family to finance a voluntary stay abroad – and to broaden their horizons and learn new skills. At the same time, our offices in the Global South are struggling greatly due to the Corona pandemic. This could lead to them no longer being able to organise voluntary work at all. 
Therefore, let's mobilize and make volunteering more inclusive!
With a donation of €20 or ANY amount, you will give a young person the gift of a life-changing learning experience. To donate, click here.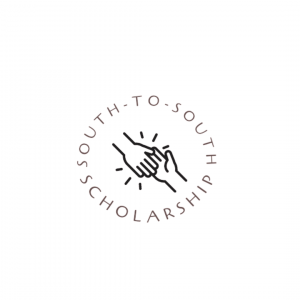 You can also donate by bank transfer:
Reference: South-to-South Scholarship Fund
Receiver: ICYE e.V.
IBAN: DE08 1004 0000 0420 7007 00
BIC/SWIFT Code: COBADEFFXXX
Read more on how the Scholarship Fund got started!
Remember the application deadline, 30th November 2022!
0
Weeks
0
Days
0
Hours
0
Minutes
0
Seconds
If you have further questions, please contact us at icye@icye.org
Objective
With the establishment of an ICYE South-to-South Scholarship Fund, we strive to enable the inclusion of volunteers from excluded groups, while simultaneously supporting under-funded types of exchanges, namely South-to-South cooperation, and ICYE National Committees in the Global South.
Background
ICYE coordinates the sending and hosting of hundreds of volunteers globally each year, with a very small percentage of those exchanges taking place between two countries of the Global South. That the large majority of volunteering exchanges take place between North and South, as the default, has the tendency to reproduce neo-colonial power dynamics and limits the possibilities for where volunteers can have their life-changing intercultural learning experiences. We see potential in enabling these under-appreciated and under-funded opportunities to take place within our network.
Additionally, we've determined that the costs for South-to-South volunteering are significantly higher, as visa procedures and costs are complicated, direct or discount flights are non-existent, etc., which contributes to the low number of exchanges. This Scholarship Fund seeks to address this gap and make the volunteering experience available to volunteers from low-income families.

Why should I donate?
To promote inclusion of young people otherwise unable to participate in international volunteering

To promote South-to-South exchanges

To strengthen the ICYE volunteering infrastructure

Here are a few examples of what your donation will be used for: 
Insurance, visa, travel costs, pocket money, training, language courses, etc.
The application process
The scholarship will be awarded for a 6-month South-South exchange starting in January/February 2023. 
ICYE National Committees in the following countries are now accepting applications for South-South exchanges starting in August 2022: Argentina, Bolivia, Brazil, Costa Rica, Ecuador, Ghana, Honduras, India, Indonesia, Kenya, Mexico, Morocco, Mozambique, Nepal, Nigeria, Peru, Philippines, South Africa, Tanzania, Togo, Uganda, Vietnam
Please apply directly with the ICYE National Committee in your country of current residence
Applications due by 30 November 2022!
The Scholarship Fund Selection Committee will review the applications and decide on candidates to be awarded partial scholarships
The Eligibility Criteria are as follows:
The volunteer is motivated to participate in a 6-month South-South exchange
The volunteer commits to promotional involvement / engagement at the National Committee-level 3 months before and 6 months after the project
Further priority will be given to:
Candidates who would otherwise not be able to afford the costs
Candidates belonging to an excluded group and would otherwise not be able to participate in international volunteering