EDITORIAL
"Volunteering for Life Skills or Employability?"
Dear friends,
Increasing the role of volunteering is seen as a bridge to employment – a result of increased global competitiveness in labour markets and economic instability. In the 40th issue of the ICYE newsletter on Volunteering for Life Skills or Employability?, we consider what skills and competences the multifaceted experiences of volunteering brings with it, and whether these skills serve employability.
In Volunteers Voices, eight former and current EVS and ICYE volunteers answer the question: Do life skills aid employability? In doing so, they describe the experiences, skills and competences that have impacted on their present life and future life choices, opportunities and ambitions. We begin with an inspiring article by a German volunteer in Colombia, which urges us to listen to the voices that are not heard too often. Next up is a Colombian volunteer in Poland for whom volunteering abroad is the best lesson ever. A Spanish volunteer in Switzerland says it in business terms, for her volunteering was similar to doing a SWOT matrix of herself. We then have an Ecuadorian volunteer in Germany, who explains that volunteers are also the beneficiaries in host projects because learning for them is paramount. In Poland, a former volunteer in Argentina explains that employers are drawn to her experience abroad. Another German volunteer in Colombia describes how she was Colombianized and that her learning includes patience and solidarity. A Finnish volunteer in Costa Rica talks about the Banco de Tiempo project and the life-long lasting benefits of her volunteering experience. Lastly, for a former German volunteer in India, volunteering enables reflection on issues from their very many different perspectives. Perspective taking, solidarity and all the other skills and competences described in the articles illustrate that volunteering imparts skills for life and for employability.
News from International Organisations, amongst others, feature: the UNV Annual Report 2015; the UN International Youth Day 2016; the European Volunteering Day marking the EVS 20th anniversary; and the World Youth Report on Youth Civic Engagement.
News from NGOs report on: the CIVICUS State of Civil Society Report 2016; Oxfam's study on how inequality is linked to climate change; the Training Manual on Climate and Health by IFMSA; UNITED's #LifeSeeker Campaign; the European Youth Forum publication on "The Role of the Youth Sector in Preventing Violent Extremism"; and a short guide of 36 useful Apps by Nonprofit Tech for Good.
ICYE Programme News include: the workshop "Ser Voluntario Internacional" by ICYE Mexico; ICYE Nepal's earthquake relief and reconstruction project; the Global Volunteering Day 2016 organised by ICYE Vietnam; ICYE Ecuador's volunteers building houses with TECHO for earthquake's victims; an informal reunion of former ICYE Board members and International Office staff in Berlin; the final conference held in Bogotá and research study of the Erasmus+ project "Communicating Human Rights in Diversity"; and the upcoming Erasmus+ Key Action 2 project "Calling Youth to Action in a Global Visibility Drive".
Wishing you an interesting reading, we look forward to receiving articles and pictures for the next issue of "Worlds of Experience", dedicated to "Volunteers at the interface between formal and non-formal education". Please send your contributions to icye@icye.org , before 30. September 2016.
Warmest regards!
ICYE International Office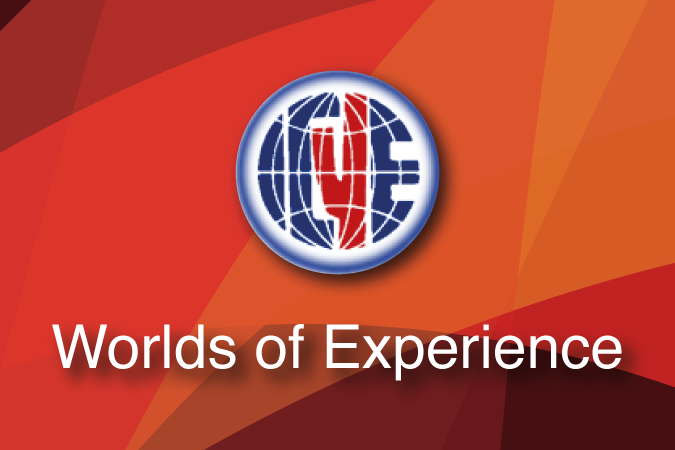 I N D E X
EDITORIAL
VOLUNTEERS VOICES on
"Volunteering for Life Skills or Employability"
Without Words
Volunteering Abroad as the Best Lesson Ever
Volunteering as Life Coaching for Young People
Volunteering and Work AbilitiesLooking for My Own Space after Volunteering
How I was Colombianized!
Sharing Time and Knowledge in Costa Rica
Reflecting on Life
NEWS FROM INTERNATIONAL ORGANISATIONS
UNV Annual Report for 2015
International Youth Day 2016
European Volunteering Forum
UN Launches World Youth Report on Youth Civic Engagement
NEWS FROM NGO´S
CIVICUS – State of Civil Society Report
How is Inequality Linked to Climate Change, and What to do About it?
IFMSA: Training Manual on Climate and Health Launch
UNITED – Are you a #LifeSeeker?
The Role of the Youth Sector in Preventing Violent Extremism
Nonprofit Tech for Good – A Social & Mobile Media Blog for Nonprofits
ICYE PROGRAMME NEWS
Ser Voluntario Internacional – Workshop Organized by ICYE Mexico/SIIJUVE A.C.
ICYE Nepal's Earthquake Reconstruction Project at Lifht for Nepal's Children
Global Volunteering Day 2016, Hanoi, Vietnam
#FuerzaEcuador
ICYE Berlin Reunion
Gauging Impact Conference, Bogota, Colombia, April 2016
ICYE Impact Assessment – Human Rights in Diversity
Promoting Volunteering – Calling Youth to Action in a Global Visibility Drive
You can view and download the previous ICYE Newsletter issues as PDF file.