EDITORIAL
"Youth Volunteering against Racism"
Dear Friends,
The recent years have witnessed a significant rise in racism, hate speech and hate crimes against refugees, migrants and minorities across the world. Political and financial instability in many nation-states, the aftermath of an ever increasing number of terrorist attacks, and political rhetoric is fuelling fear and resentment within communities. In the 44th issue of the ICYE Newsletter, we therefore take up the theme Youth Volunteering against Racism.
The ICYE programme is based on the principle of cultural exchange, which embodies the promotion of intercultural understanding, of equality of opportunity and of peace. Hundreds of young ICYE volunteers embark on a cultural exchange and serve year after year in civil society organisations around the world. Young volunteers have the potential to make a difference by sharing a positive message about inclusion and diversity and thereby countering prejudiced and racist attitudes.
In Volunteers Voices, 7 current volunteers discuss their reflections on the theme of racism. Among the diverse experiences of the volunteers, one aspect is prominent in its reoccurrence in many of the articles: the presence of latent, unintentional racism in everyday life, which in its covert form is not regarded as racism and serves to normalise racist discourses and 'othering' processes in society. At the same time, as an US-American volunteer in Spain writes, the interaction with one person is all it takes to realise that we are more similar than we may initially assume, and little by little, this will change the mind-sets of many and inspire the hearts of tons.
ICYE Programme News include: the 30th General Assembly pf the ICYE Federation in Denmark; reflections on the situation of refugees by a former ICYE UK Board member; "Zusammen Leben" and "SAWA" two initiatives to support and involve young refugees in volunteering respectively by Grenzenlos/ICYE Austria and ICJA/ICYE Germany; the final evaluation meeting of the Erasmus+ Project "Calling Youth to Action in a Global Visibility Drive"; and the new ICYE Erasmus+ Key Action 2 project on "Skills and Competences for a Global World".
News from Int'l Organizations feature: Youth delegates at the 72nd UN General Assembly; ILO's report on World Youth Skills Day – 17 July 2017; the new UN SG report on "Youth development links to sustainable development"; and the 10th UNESCO Youth Forum.
News from NGOs report on: WEF report on "How Skills-based Volunteering can help you succeed in the age of robots"; the 2017 Global Youth Wellbeing Index and 6 Fundraising tips for small NGOs.
Wishing you an interesting reading, we look forward to receiving articles and pictures for the next issue of "Worlds of Experience", dedicated to "The role of intercultural communication in volunteering". Please send your contributions to icye@icye.org, before 31 January 2018.
Warmest regards!
ICYE International Office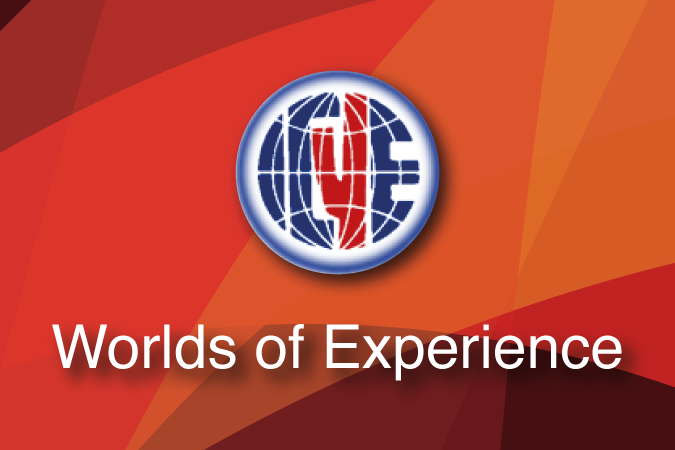 I N D E X
EDITORIAL
VOLUNTEERS VOICES on "Youth Volunteering against Racism"

Racism without Intent.
Erasmus+ is funding not only the EVS-Project, but also united against racism.
As a foreign woman, as a global citizen.
Learning by Experience.
Common Ground through Flexibility.
Racism in daily life of the Rainbow Nation.
About being dormant.
ICYE PROGRAMME NEWS
ICYE General Assembly.
Are we there yet? How much longer will the dehumanisation of refugees last before the fake news bubble bursts?.
Mentoring for Change.
SAWA means "Collectively, together".
Visibility Evaluation.
Skills and Competences for a Global World.
NEWS FROM INTERNATIONAL ORGANISATIONS 
Youth Delegates raise their voices at the UN General Assembly.
ILO: Skills for the Future of Work.
Youth Development Links to Sustainable Development.
UNESCO: Rethinking Youth Engagement with UNESCO at the 10th UNESCO Youth Forum.
NEWS FROM NGOs
How Skills-based Volunteering can help you succeed in the age of robots.
Youth Economic Opportunities.
6 Fundraising tips for small NGOs.
You can view and download the previous ICYE Newsletter issues as PDF file.