.
Volunteers for Peace Vietnam (VPV)
No.56, lane 99, Nguyen Phong Sac street,
Cau Giay, Hanoi, Vietnam
Telephone: +84-9-78488853
Website: vpv.vn
Email: vpv@vpv.vn
Facebook: vpvhanoi
Instagram: vpvhanoi

Centre for Sustainable
Development Studies (CSDS)
63 Hang Trong Street, Hoan Kiem District,
Hanoi, Vietnam
Telephone: +84-9-8766878
Skills Boosters
The social entrepreneurship project, Youth Skills Boosters, led by the Centre for Sustainable Development Studies (CSDS) and Volunteers for Peace Vietnam – ICYE Vietnam aims to:
Enhance the capacity of youth clubs, organisations and start-ups in Vietnam
Promote social entrepreneurship among young people and youth clubs, organisations and start-ups
Build a supportive network among young people in order to empower them to develop their own projects
Skills Boosters Workshops
The project will consist of a number of workshops for young people who are eager to get new perspectives and new experiences and above all to improve their soft skills for both their personal and professional development. Throughout the duration of the project, the Polish volunteer Magdalena Juchniewicz and the other young people including local  volunteers of ICYE Vietnam will have a chance to deepen their knowledge and improve their:
Communication skills
Skills of writing CVs and doing interviews
Critical thinking and problem solving competences
Project planning and management skills and competences
The workshops' activities are based on non-formal education and the programme consists of exercises, simulations, learning by doing through interviews, debates, discussion panels and reflections. The participants of the workshop will be empowered to analyse social problems and local needs, based on which they will develop their social entrepreneurship ideas. They will be encouraged to develop their project ideas in a structured way by focusing on why the project is needed, what the project is and how they will implement it.
Timeline
April & May: Pilot workshop for local volunteers of ICYE Vietnam
June: Review and improve the content and promote the social entrepreneurship workshops taking place in the next 3 months
July, August and September: Workshops for youth clubs and other interested organisations
October & November: Collecting feedback and creating a database. Developing a toolkit for social entrepreneurship and implementing trainings for trainers for local volunteers of ICYE Vietnam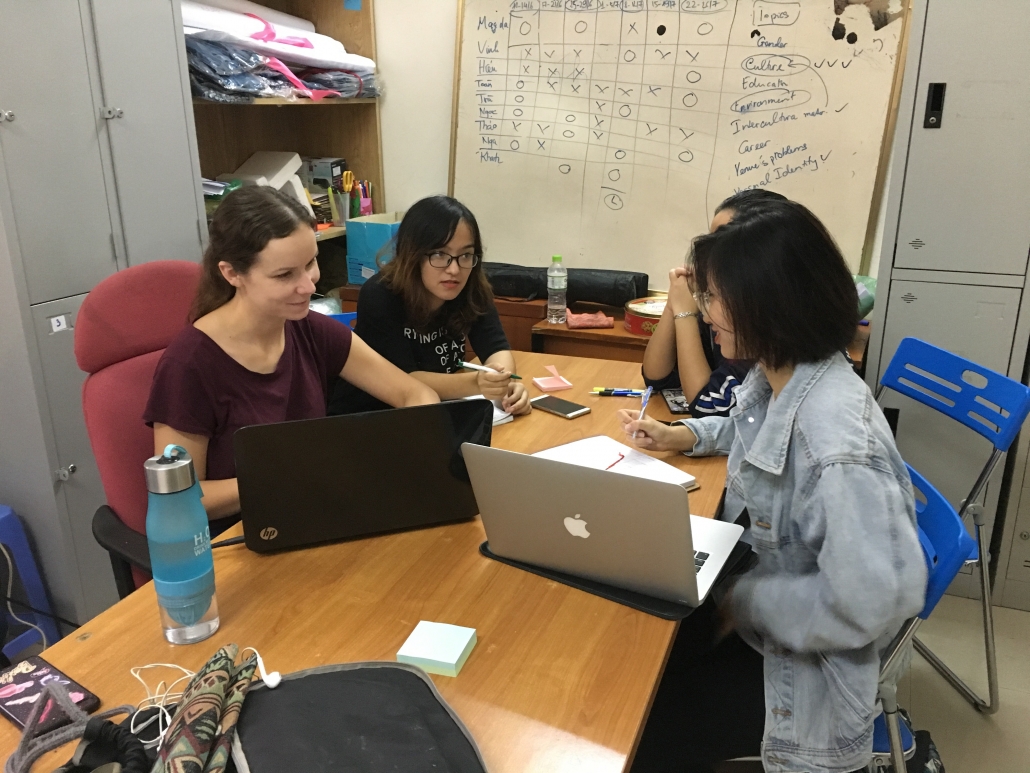 Expected outcomes
Youth clubs have clear plan for their own projects
Youth clubs' members are well trained with skills for social entrepreneurship
Set up a supportive network of youth clubs
Create a pool of local trainers/facilitators for social entrepreneurship workshops in the future
Promote social entrepreneurship among young people and youth clubs for their sustainable development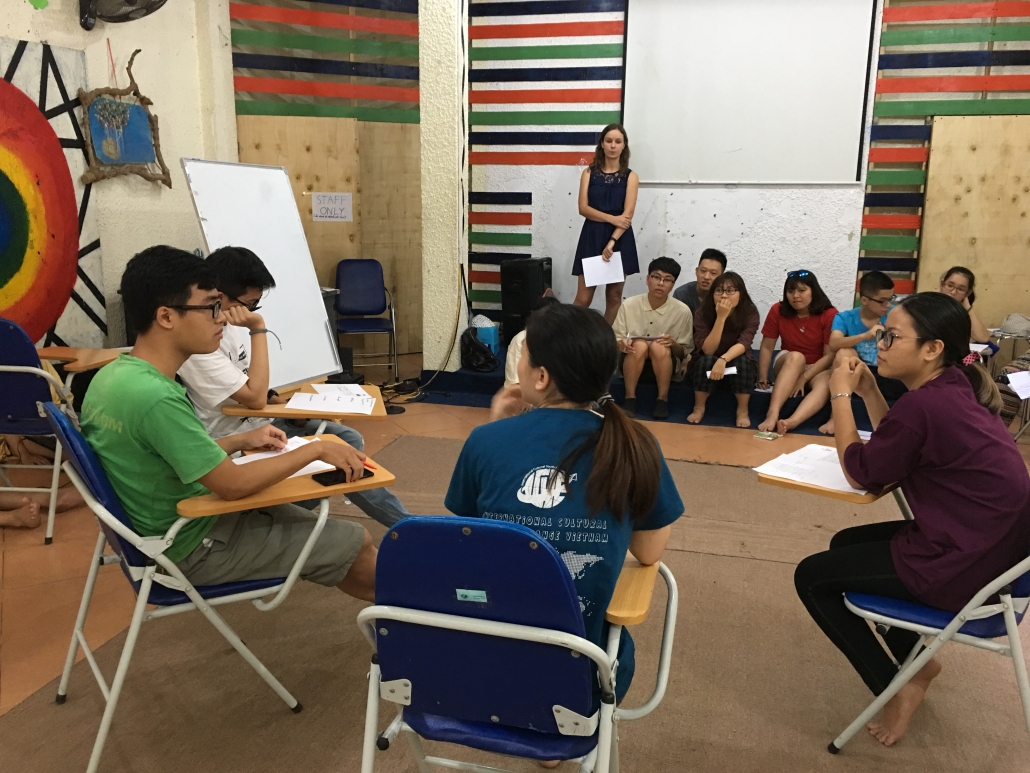 The first Skills Boosters workshop
The first Skills Boosters workshop took place on the 18th of August 2019 .The particpants were provided with opportunities to recognize and improve their skills related to public speaking and debating. The activities were based on non-formal education and learning through discoveries and consisted of games, simulations, exercises, debates, interactive discussions, reflections and feedback.
The workshop aimed to encourage participants to express themselves and to develop their creativity and confidence in public speaking. Throughout all activities participants had a chance to practice rhetorical skills and persuasive speaking. The group of youth discovered some techniques and practices for more efficient communication and presentations. They gained knowledge and practical skills necessary to express themselves clearly with confidence in a variety of speaking situations in public. They learnt about the structure of an argument and were exposed to the norms of group discussions.
In the end they had a chance to implement new skills during the debate practice as well as in the final debate where they discussed important social issues and had a chance to develop independent and critical thinking. The participants received a certificate which confirms their participation and skills recognition.
Summer Camps
Two summer camps named "Beat the stereotypes" took place in Thai Hai Village in June and July. Between 20 and 30 international volunteers from Sweden, France, Poland, USA, Germany and Poland participated in the camps which highlighted topics of cultural exchange, active discovery of one's identity, breaking down stereotypes, and intercultural dialogue.
The activities of the camps included:
Icebreakers and teamwork exercises
A village tour
Inner self workshop
Language exchange workshops
A workshop on identity
Cultural dialogue workshop
An introduction of the Camp and NGO gave participants an overview of volunteering opportunities and their importance for individual and community development. Icebreakers and teamwork exercises enabled participants to better get to know and understand and respect each other, which built connections and a sense of unity among participants. Moreover, participants had a chance to spend time with representatives of a local minority group and to experience their lifestyle.
The summer camps promoted values of non-discrimination, equality, understanding and respect for other cultures and awareness of one's own culture. The international exchange positively influenced the development of the personal competences of the participants, such as the ability to deal with a completely new environment and communicating with people from different backgrounds. Overcoming barriers and own weaknesses resulted in strengthening their self-esteem and personal growth.