Lastochki Office (RUS-17)

Type: Office Work: Administration - Country: Russian Federation
Brief description and main aims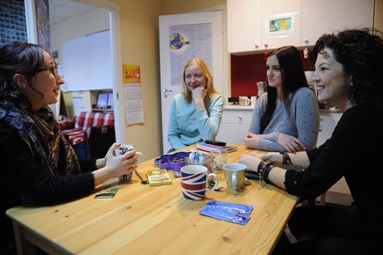 Samara Regional Non-governmental Youth Organisation "Lastochki" was established in 1997 by young members of the United Nations support group in Samara. In November 2001 the NGO "Lastochki" was accepted as an Associate Member of ICYE Federation. International Cultural Youth Exchange (ICYE) is an international non-profit youth exchange organisation promoting youth mobility, intercultural learning and international voluntary service.
We see our mission in the promotion of international volunteerism in Russia by means of our long- and short-term projects.
Main Activities
The volunteer will work hand in hand with the Lastochki staff and assist them in their daily activities in the office. The volunteer helps the staff in issues linked to international youth exchange and voluntary programs such as public relations, quality improvement, project management, crisis management, partnership building, etc.
The volunteer will be involved in many working processes like planning, assisting, participating, etc. The volunteer will assist the staff with managing of trainings for long-term and short-term volunteers coming from the programs of the ICYE Federation. This will enable the volunteer to gain experience in the running of international youth activities. The volunteer's learning and service experience will be documented.
Volunteer tasks
The long term volunteer will support and assist the staff in the
following activities:
Make and conduct trainings for long and short term volunteers;
Internet research on possible fund raising;
Updating Lastochki's national/work profiles as well as Lastochki web page and social media;
Assisting the Active group in creating a regular Newsletter;
Assisting in the development of Lastochki posters and information sheets;
Helping the staff to organise meetings for local volunteers, mentors and host families;
General office tasks.
The volunteer will be working in Lastochki's office, interacting with the staff, active members and most local volunteers we have. The working hours will be flexible. Normally it is 8 hours a day from Monday to Friday. We expect the volunteer to be creative and responsible, and we give the volunteer lots of freedom in making their own working schedule which may be different from the standard working day. The working languages are Russian and English. The volunteer will be supervised by one of the staff members. Lastochki will provide the volunteer with a mentor outside the Lastochki office. The volunteer is very welcome to propose an individual project.
Volunteer requirements / Skills
At least 18 years old
Open to communicate with new cultures and learning other languages which are very different from the volunteer's own;
Creative, friendly, energetic and ready to adapt to a new environment;
A good command of English as well as PC literacy (Word, Excel) will be of use;
At least basic Russian is required
Location
The office is located in Samara.
Hosting Situation (Board and Lodging)
The volunteer will either live in a host family, or in a rented apartment shared with other international volunteers.
More Information
Number of volunteers in project: 2
Explore our projects world-wide
Explore our Projects Database and find placements among over 800 volunteering opportunities in more than 40 countries.
Long-term Projects
You can see all the projects on a country leaving the Project Type field empty and selecting a country.
Short-term Projects
You can see all the projects on a country leaving the Project Type field empty and selecting a country.