Kukulcán Asociación (HON-68)

Type: Human Rights: LGBTIQ Rights - Country: Honduras
Brief description and main aims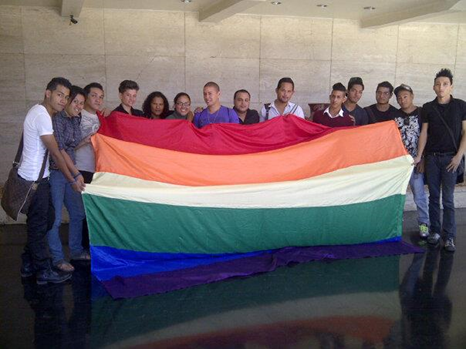 Kukulcán Asociación is a non-profit and non-governmental organisation that develops programmes and projects focused to improve the life conditions of the LGBTIQ+ (Lesbian, Gay, Bisexual, Trans, Intersex, Queer, Questioning) population of Honduras, in terms of sexual health, human rights, citizenship participation, gender equality and education in order to contribute to their comprehensive human development. Kukulcán Asociación works with youth aged 18-35 who are members of the LGBTIQ+ community.
Main Activities
The organisation carries out different activities such as:
Providing HIV and other STI (Sexually Transmitted Infections) prevention services.
Increase the access to getting HIV tests.
Strengthen the initiatives of LGBTIQ+ groups in terms of political advocacy and human rights.
Provide assistance and accompaniment to LGBTIQ+ persons who are victims of violence and/or human rights violation.
Foster leisure and mental health programmes for the LGBTIQ+ population.
Establish alliances and actions with organisations defending human rights.
Manage funds for HIV prevention from The Global Fund of 4 LGBTIQ+ organisations in Honduras.
Volunteer tasks
The volunteer can support in any of the projects of the organisation, some examples are:
Support and organise with educational-diverting activities with young volunteers of the organisation.
Help facilitate presentations and workshops on LGBTIQ+ themes with university students.
Help facilitate trainings to the LGBTIQ+ population and other groups within the organisation or visiting universities and schools.
Support the trainings for trainers in regards to HIV prevention methods.
Depending on the Spanish knowledge of the volunteer, he/she can support on research activities on LGBTIQ+ issues in Honduras.
If the volunteer has other skills, such as community management, arts, theatre, dance, etc., he/she can develop workshops.
Volunteer requirements / Skills
The volunteer should:
be between 18-35 years old
have a fair knowledge of Spanish
be creative, dynamic, conscious and motivated to help LGBTIQ+ issues
Preferably the volunteer should be a member of the LGBTIQ+ community.
Educational background and/or work experience on human rights, LGBTIQ+ themes, and research, is highly appreciated.
Location
This project is located in Tegucigalpa, Francisco Morazán.
Hosting Situation (Board and Lodging)
The volunteer will live with a host family.
More Information
The project is available to start in August and February every year for 6-12 months.
Social media:
Facebook Page: @AsociacionKukulcan
Facebook Profile : Kukulcanhn Tegucigalpa
Instagram: @asociacionkukulcan
Twitter: @akukulcan
You can request more information of this Project contacting ICYE Honduras: incoming@icye.hn
Explore our projects world-wide
Explore our Projects Database and find placements among over 800 volunteering opportunities in more than 40 countries.
Long-term Projects
You can see all the projects on a country leaving the Project Type field empty and selecting a country.
Short-term Projects
You can see all the projects on a country leaving the Project Type field empty and selecting a country.