Que Alegre Alegria Organic Demo Farm (PHL-73)

Type: Agriculture, Environment - Country: Philippines
Brief description and main aims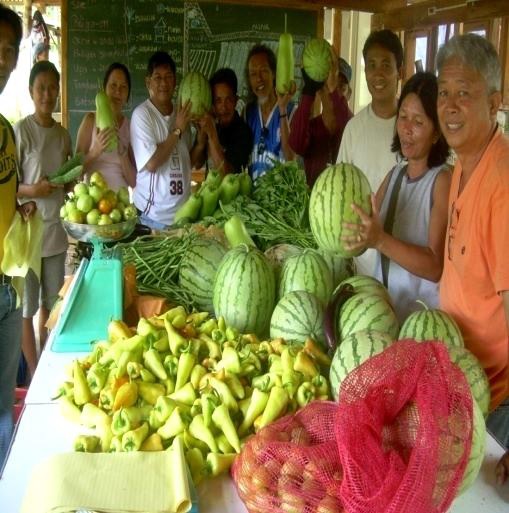 This Demo farm is the perfect combination to improve and increase the profitability of countryside entrepreneurship and simultaneously reduce the cost of production. Its inter-relationship provides a complementary existence, making it possible to attain an optimum productivity at low cost.
Que Alegre Alegria Organic Demo Farm's main aims are:
Promote a healthy community
Organize, strengthen, and support people's organizations in all nine barangays in the town of Alegria, Cebu
Have a community of individuals who share a common culture and set of values, customs, and traditions, aspire under a common ideal, and live and work on common ground
Develop kowledge of the proper ways to care for nature and the environment and the utilization of natural resources upon which life depends
The practice of the ways of sustainable development, the need to balance consumption with production, the role of farmers in the preservation of natural resources and conservation of wildlife and indigenous species, the maintenance of ecological balance, and their impact on human existence
Enhancement of the knowledge and practice through continuing education and the sharing of new information with other institutions and organizations.
Integration of proper farming methods with sound environmental practices and their continued application
Continuing education on the means of sustainable agriculture and ecological balance, with due consideration on current environmental problems and their solutions.
Raised standard of living and quality of life for the marginal farmer through alternative, additional, or new sources of livelihood
Main Activities
The project's main activities include:
community organizing and technical assistance,
acquisition of a four-wheel drive tractor to accelerate farm cultivation for increased productivity,
acquisition of a shredder and installation of a vermi-composting facility which will enhance the production of a low-cost organic fertilizer to increase farm productivity
vegetable and seedling production
organic hog raising and native chicken production, capability building
marketing, monitoring and evaluation
project documentation and reporting
Volunteer tasks
The volunteer is expected to:
Participate in organic farming and other agricultural related activities
Assist in developing and renovating the farm
Conduct trainings and seminars
Carry out clerical works
Assist in the promotion and resource mobilization efforts of the Organization
Assist in other community outreach programs
Organize, strengthen, and support peoples' organizations in all nine barangays
Assist in facilitating and implement projects
Operate demonstration farms, conduct farm tours and cross-visits, and train farmers on the ways of sustainable agriculture
Assist in the establishment of communal farms in the barangays as live and continuing showcases of the practice of sustainable agriculture
Volunteer requirements / Skills
The volunteer should be:
Flexible, open-minded and able to adopt the local situation
Committed and dedicated
Interested in learning all aspects of agriculture
Experienced in community organizing
Willing to take risks / Multi task
A good communicator
Able to lead internal and external teams
Innovative, industrious, adventurous, sociable, creative and fun loving
Independent and require little supervision
Location
Upper Minag-a Legaspi Alegria, Cebu.
The Municipality of Alegria, a 4th class town, is one of the local government units (47 municipalities and five cities of the Province of Cebu, and one of the 15 municipalities in the 2nd Congressional district of the province. It only takes three (3) hours to reach the Municipality on a non-stop drive from Cebu City passing the Cebu City-Carcar City, Barili-Alegria route and four and a half hours passing the Cebu City- Santander-Samboan- Alegria route.
This project is to be implemented in the Municipality of Alegria which is one of the major sources of vegetables and livestock of Metro Cebu and its adjacent provinces. The suitability of agricultural crops with the basic skills of the farming communities is ideal due to the bio-physical and climatic condition of the area and further sustained by the existence of vegetable traders and strong people's organization.
Hosting Situation (Board and Lodging)
The volunteer will be living with a Host Family. (Expect to have a shared room with your host sister or brother).
Explore our projects world-wide
Explore our Projects Database and find placements among over 800 volunteering opportunities in more than 40 countries.
Long-term Projects
You can see all the projects on a country leaving the Project Type field empty and selecting a country.
Short-term Projects
You can see all the projects on a country leaving the Project Type field empty and selecting a country.