Muyu Semilla de Selva (ECU-104)

Type: Environmental/Green Projects: National Park - Country: Ecuador
Brief description and main aims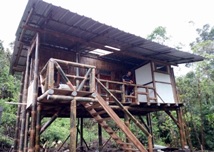 The aim of the project is to preserve the local Kichwa culture and the local environment of a region close to the national park of Llanganates on the route Puyo-Tena. The project aims to preserve the latter by educating the local community about the environment and initiating projects on ecotourism, community and adventure tourism.The project is also aiming to construct a site for educational courses.
Cultural Exposure
Muyu is located in an area of secondary and primary forest, half an hour away from Puyo The community
is composed by about 100 indigenous people with a high amount of poverty, low levels of education, familiar problems, deficient in hygiene, cultural degradation Therefore, one of the main targets of Muyu
Semilla of Selva is, to encourage the sustainable development of the community, rescuing cultural values
and encouraging the respect towards the environment
Main Activities
Some of the projetcs main activities include:
providing lessons about the environment as well as English classes
maintain the property and site
reforestation
organic farming
cooking
investigation into local species
Volunteer tasks
The volunteer is expected to help in the:
Creative area (Improve the facilities, creation of informative cartels, tourist routes and other activities including dance workshops, music, painting and sport for the children and adults of the community)
Area of maintenance (Improve common areas, works of construction and reparation)
Area of reforestation and organic farming (Plantation, works in organic farming,medicinal plants area)
Area of traditional kitchen (preparing typical Kichwameals together with the families)
Department of tourism (Translation to foreign tourists, classes of English,tourist guides)
Environmental education area
Area of project research and development (Investigation of different species, field collaboration / audience in the different projects of scientific investigation, observation of birds, biological inventories)
Volunteer requirements / Skills
The volunteer should:
be able to speak a basic level of Spanish
be open-minded towards a different culture and the conditions of a tropical rainforest
have enthusiasm for getting to know other more rural forms of life
be at least 18 years old
have experience in at least some of the following areas: environmental education, organic farming, ecotourism, sustainable development, or project development.
Location
Puyo, Pastaza (Amazonia).
Hosting Situation (Board and Lodging)
The volunteer will live at the project.
Explore our projects world-wide
Explore our Projects Database and find placements among over 800 volunteering opportunities in more than 40 countries.
Long-term Projects
You can see all the projects on a country leaving the Project Type field empty and selecting a country.
Short-term Projects
You can see all the projects on a country leaving the Project Type field empty and selecting a country.