English Class for Buddhist Nuns - South (VNM-109)
Brief description and main aims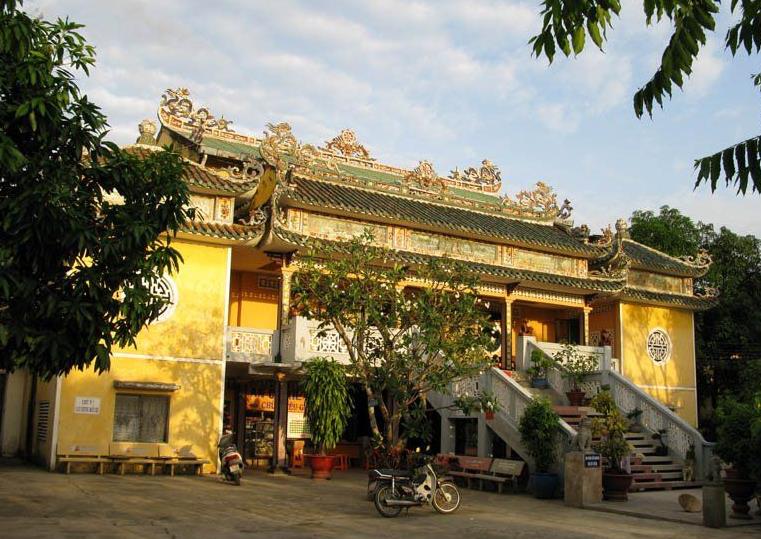 The aim of the project is to help local Buddhist nuns can communicate in English basically and broaden culture understanding.
Main Activities
The English Class for Buddhist Nuns is located inside Dieu Giac Pagoda. Dieu Giac Pagoda has two sections: Sanctuary on the right and orphanage center (established in 1989) on the left. Now, almost every child in the pagoda is sent to school from morning to afternoon, from Monday to Friday. Besides, they are taken care of by the Buddhist nuns and local volunteers who are here daily. However, the nuns are interested in studying English and they have free time for English classes in the morning.
Volunteers can help the Buddhist nuns in the pagoda to practise and improve their reading, writing, listening and speaking skills in English , as they did not learn English before.
VPV provides volunteers with various materials for teaching English such as course books, flash cards, dictionaries, stories, games, etc., so feel free to use them to plan your lessons based on learners' level of English.
It would be better if volunteers can teach the learners follow one particular course book (Let's go 1A is recommended), so that the successors will be able to follow what the former volunteers taught before.
Volunteer tasks
Volunteers will be responsible for taking control of the English class. Volunteers will work as the sole teacher in the class. You will be required to make a teaching plan with lesson plans using the learning materials provided to ensure continuity in learning from the teachers before and after you.
The timetable will be given on arrival with volunteers working schedule from Monday to Friday and working hours from 09:00am to 10am. Volunteers will work around 5 hours per week at the class and will use the rest of their time between other projects and classes that require voluntary assistance.
Volunteer requirements / Skills
Volunteers must be 18 years old minimum. Volunteers must show eagerness, the ability to maintain motivation and reliability.
Volunteers should show respect to The Buddha and nuns by wearing appropriate clothes.
Volunteers should be patient, open-minded, creative and active in that working environment.
Location
Dieu Giac pagoda is located in district 2, Ho Chi Minh city.
Travelling by bus the journey from the dorm is around 1 hour and a half but can be shorter or longer depending on traffic.
Hosting Situation (Board and Lodging)
Volunteers will stay in a dormitory, sharing rooms with volunteers of other nationalities joining the same program. Normally, rooms are arranged with about 2-4 volunteers per room. In the busy time, the number can be maximum 5 or 7 volunteers per room in 4 or 5 bunk beds (August or March). Western toilets and hot showers are available. The house has TV, PC with internet, free WIFI, fridge, kitchen with cooking facilities, common room. Laundry service near the house with the cost US$1 for 2 kg.
Breakfast, lunch & dinner are provided.
Food is local style and usually be rice, meat, fish and vegetables & Vietnamese soup. For vegetarians the choice is usually limited to rice, bread, vegetables, egg & tofu.
Volunteer is free to use kitchen for personage cooking.
By individual requirement, the single or twin room can be arranged.
The travel time to project from home is between 15-20 minutes by bus.
Explore our projects world-wide
Explore our Projects Database and find placements among over 800 volunteering opportunities in more than 40 countries.
Long-term Projects
You can see all the projects on a country leaving the Project Type field empty and selecting a country.
Short-term Projects
You can see all the projects on a country leaving the Project Type field empty and selecting a country.