Advaith Foundation (IND-1)

Type: Human Rights: Children Rights - Country: India
Brief description and main aims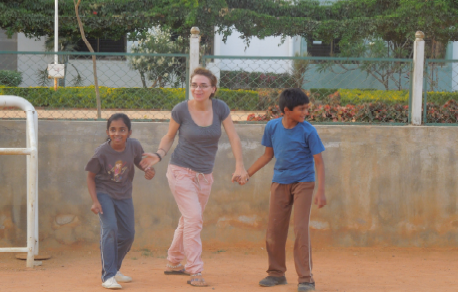 Advaith Foundation's dream is to transform the lives of thousands of poor and deprived children into lives filled with health, happiness, promise and achievement.
We believe that giving them access to quality education is the first and most important step towards this endeavor. Ankur, the children's home, is the first project of Advaith Foundation where we provide a home and facilities that help support and supplement the education of the children. At Ankur, we try to make education a joyful process. Children attend classes at The Samhita Academy, which provides excellent teaching and quality education.
Volunteer tasks
Volunteer's tasks include:
Teach / homeschool new entrants
Assist in after school revision / tuition
Tell stories focusing on morals and values
Teach extra-curricular activities (crafts, painting, music, dance)
Engage children in sports activities in the evenings
Teach English to children / staff
Counsel children / staff
Celebrate festivals with staff and children
Assist in organizing outings / picnics
Assist in organizing fun camps during holidays
Volunteer requirements / Skills
Volunteers must:
have some basic knowledge of English
have skills in teaching, sports, music, arts and other specialised skills that are unique to the volunteers are most welcome
People with additional working experience with children in areas of teaching, tutoring, counselling, therapy or sports will be a bonus to us.
Location
The project is located in Lakshmipura village, Bangalore.
Hosting Situation (Board and Lodging)
Since our project is residential all safety precautions are taken.The living areas are cleaned and clothes laundered every day to maintain hygienic living conditions. Nurses live on the campus with all basic equipment's and medicines, to take care of any health issues. Doctors are on call and the nearest hospital is just 10 minutes away. Transport from and to the campus is available based on a schedule, but is always available for any emergency. Volunteers will live inside the campus in a staff block. Sometimes 2 volunteer will share one room but most of the time single rooms are available. Food will be provided by the project as well.
More Information
Having the volunteers live with us also gives us all an opportunity to learn about people, food, culture and geographical backgrounds of our volunteers. We also enjoy sharing the rich cultural heritage of India, our food, celebrations and other exciting activities.
Explore our projects world-wide
Explore our Projects Database and find placements among over 800 volunteering opportunities in more than 40 countries.
Long-term Projects
You can see all the projects on a country leaving the Project Type field empty and selecting a country.
Short-term Projects
You can see all the projects on a country leaving the Project Type field empty and selecting a country.