Sansita Jeevana (IND-107)

Type: Office Work: Marketing - Country: India
Brief description and main aims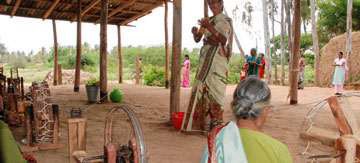 Sansita Jeevana is a one of a kind project. We produce unique and timeless heritage handlooms with a different story behind them by using energy efficient solar powered units. Our traditional and highly skilled handloom weavers process and weave natural fibre like banana, hibiscus, korai grass and vettiver. This heritage handloom can be customised to suit any decor from roof/wall cladding, window dressing, headboards, veneers, lighting etc.
Sansita is currently working on expansion of production capacities by adopting different villages and is in the process of establishing a Business Development department team that will focus on achieving scalability and administrative cost efficiency. The goal is to work closely with other teams to establish customer needs and produce business opportunities to sell products effectively.
Volunteer tasks
The volunteer is expected to help with:
Forming and Training Sales team and department
Planning and overseeing new marketing initiatives
Managing foreign internships for product development
Identifying and qualifying new sales and distribution channels
Developing creative verticals to add to the products range
Maintaining relationships with existing customers
Managing contracted work for marketing activities.
Maintaining documentation for weekly, monthly sales targets and KPI reports
Target sales goals to be achieved every month
Running pilot programs for creative and functional products every month
Researching the market and identifying potential target customers and business
Volunteer requirements / Skills
The volunteer should:
have a Bachelor degree (MBA preferred)
have strong analytical abilities
be ble to utilize data, measures and analysis to understand and explain how critical business processes function and how they impact business performance
have highly developed oral and written communication and presentation skills, including experience presenting information to influencing senior business executives
be able to provide quality leadership to a cross-section of people
be creative and have the ability to solve tough problems
have in-depth knowledge of the industry and its current events
be able to handle pressure and meet deadlines
have strong skilsl when it comes to prioritizing and meeting obligations
pay close attention to detail
have excellent time management and organizational skills
Location
The office is located in Bengaluru, Bangalore City. The culture includes a vibrant lifestyle. People from different parts of India and even abroad have come up with unique contributions to the Bengaluru culture. This has added to the change in lifestyles in Bengaluru as well. Bengaluru has a mix of urban and rural forms of lifestyle. Most of the traditional Kannadigas prefer to live as per their tradition and culture. They have a strong religious influence in their lifestyle.
On the other hand, you will also find a more urbanized style of living. Most of the people of the urban Bengaluru are working professionals and enjoy the nightlife of Bengaluru. The city has a splendid nightlife which shelters more than 200 bars and clubs. Apart from these there are clubs and entertainment centers for the elite class. There are golf clubs, race courses, and Cricket clubs and so on, for the elite class to have a great time. They love to eat out and try different cuisines apart from the local food.
Hosting Situation (Board and Lodging)
The volunteer will live at the project or with a host family.
Explore our projects world-wide
Explore our Projects Database and find placements among over 800 volunteering opportunities in more than 40 countries.
Long-term Projects
You can see all the projects on a country leaving the Project Type field empty and selecting a country.
Short-term Projects
You can see all the projects on a country leaving the Project Type field empty and selecting a country.