Escuela para Ciegos "Pilar Salinas" (HON-13)

Type: Education: Primary school - Country: Honduras
Brief description and main aims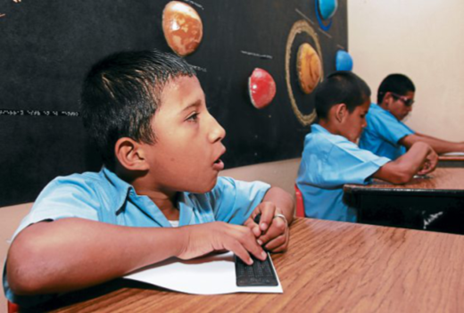 Escuela para Ciegos "Pilar Salinas" is a primary school (grades 1-6) which provides specialised, free and high-quality education to blind children or children who have an associated disability. The school's programmes and services foster autonomy among the students, using methodologies and techniques to meet the individual educational needs in order to promote an educational inclusiveness.
Main Activities
The school is authorised by the Ministry of Education of Honduras as part of the national public education, working from February to November. It also has a boarding school system free of charge for students and their families during this school year. The school provides primary-level education, teaching of daily-life activities and mobility in order to foster independence and an integration into society.
Volunteer tasks
The volunteer can:
be a teacher assistant in one or several classes, such as helping students who have other disabilities, organising and distributing tactile materials, among other tasks
organise and deliver basic English lessons, and assist in classes such as physical education, dance, theatre and music
help the teachers organise educational games with the students during recess
help maintain order during field trips
The school is open to new fresh ideas from the volunteer to organise different types of activities.
Volunteer requirements / Skills
The volunteer should :
be at least 18 years old
have basic knowledge of Spanish
be interested and motivated to work with blind children
be patient, determined, proactive, creative and a good team player
It is preferable, but not necessary, if the volunteer has teaching skills.
Location
The project is located in Tegucigalpa, Francisco Morazán
Hosting Situation (Board and Lodging)
The volunteer will live with a host family.
More Information
The project is available to start in February every year for 6-12 months.
Social media:
Facebook Page: @pilarsalinas.epc
Instagram: @pilarsalinas.epc
Blog: https://pilarsalinas.wordpress.com/
You can request more information of this Project contacting ICYE Honduras: incoming@icye.hn
Explore our projects world-wide
Explore our Projects Database and find placements among over 800 volunteering opportunities in more than 40 countries.
Long-term Projects
You can see all the projects on a country leaving the Project Type field empty and selecting a country.
Short-term Projects
You can see all the projects on a country leaving the Project Type field empty and selecting a country.