Ananya Trust (IND-15)

Type: Education: Primary school, Education: Secondary School - Country: India
Brief description and main aims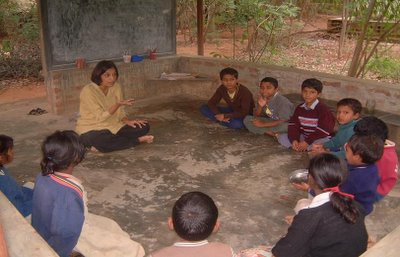 ANANYA was founded in March 1998, by a group of individuals concerned about the lack of schools that provide relevant and meaningful education to the underprivileged children in and around Bangalore City.
Even though the Indian Constitution guarantees free and compulsory education to all children up to the age of 14, there are no schools that the poor can attend. Either the schools are very good, but expensive, therefore beyond the reach of the underprivileged, or they are free but have poor physical facilities and offer a standard curriculum which is dull and boring.
Most children, who drop out of school, do so because the schools do not cater to their special needs. Education in such a critical context has no meaning or relevance to these children. It does not provide them with the required skills to overcome the social traumas or the emotional and physical hardships they face everyday.
Long Term objectives: to provide educational opportunities to underprivileged children so that they can realize their dream of getting a school certificate and to contribute the development and growth of the society in general and their families in particular.
Main Purposes: To run unique schools ASK (Ananya Shikshana Kendra) that makes learning fun, relevant and meaningful for underprivileged children who are excluded from mainstream schools. To provide a platform ACT (Ananya Centre for Teachers) where people working with such children can meet to share experiences and ideas and create innovative teaching methods.
Volunteer tasks
The volunteer's tasks include:
Teaching English, and other activities like plays, theatre, drawing, painting, games etc.
Teach children and work towards the overall development of poor children between the ages of 8 to 18 years old.
Help children in their school assignments, homework, special coaching for Mathematics, Science and other subjects on a regular basis.
Volunteer requirements / Skills
We are highly motivated to host volunteers to work with us in reaching our aims and objectives and to exchange views and ideas.
The volunteer should:
be mature, committed, friendly, and responsible
be knowledgeable in English
be willing to work in this project for the full program year - travel month must be discussed with project in-charge depending on the project's free time/vacation.
be open minded and non judgmental. It is important for the volunteer to translate the cultural differences as – "different from mine" and not "less than mine". An appreciation of patterns of cultural difference can assist in processing what it means to be different in ways that are respectful of others. Learning about people's cultures has the potential to give the volunteer, a mirror image of their own
Location
The organisation is located at Southern part of Bangalore. It's situated 15 km away from Bangalore city. The localities of area Majority families are middle level economical groups. The people are helpful to the institution.
Hosting Situation (Board and Lodging)
Food and accommodations are provided by the project.
More Information
Change in project will not be allowed. Since it requires long time commitment. There should be no smoking or consumption of alcohol on the campus.
Explore our projects world-wide
Explore our Projects Database and find placements among over 800 volunteering opportunities in more than 40 countries.
Long-term Projects
You can see all the projects on a country leaving the Project Type field empty and selecting a country.
Short-term Projects
You can see all the projects on a country leaving the Project Type field empty and selecting a country.