AMANECER (BOL-9)

Type: Socially Excluded Groups: Orphans - Country: Bolivia
Brief description and main aims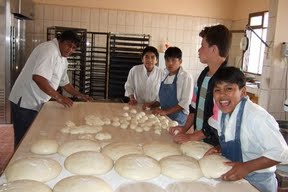 Since 1981 Amanecer has provided a home and a new beginning for the abandoned, abused and orphaned street children of Cochabamba. It offers help to girls and boys aged between 0 and 18, as well as their mothers. The program has one facility housing 120 children aged between 0 and 5. Currently there are 24 babies who are aged 6 months or under.
The program is intended to promote physical, intellectual, spiritual and social development to former street children with the aim of eventually reintegrating them into society with increased self-respect and the ability to maintain themselves economically.
Main Activities
Amanecer's main activities are:
Boarding and recuperation of street children
Providing education and school material
Vocational training
Medical and dental service
Street work
Volunteer tasks
Depending on the area they choose to work in volunteers are to help out educators, cheer the children up and provide an example for the children to follow.
Main areas where the volunteer can help out are:
Education: Children require tutors for basic math, science, geography and language.
Building maintenance: There is a great need for people skilled in trade or people not officially qualified but able to effectively help with the maintenance of the various facilities of the program.
Childcare: This facility is in need of assistance in all operational areas including infant care, feeding, janitorial, laundry, plant maintenance and (most importantly) playing with and providing affection for children.
Mental health: Many of the children have emotional problems and can benefit from individual attention and counseling by professionals (a high level of Spanish is required.)
Sports: Sports are used to encourage healthy physical development. Volunteers with abilities in this area or willingness to instruct sporting activities are welcome.
Computers: Volunteers with basic or advanced computer skills are needed to help maintain the computers and organize trainning.
Volunteer requirements / Skills
Volunteers must be at least 21 years old and willing to work in the program for a minimum of six months (depending on the skills of the volunteer shorter terms can also be arranged.) Knowledge of Spanish is essential.
Preferred backgrounds for volunteers are education, childcare, psychology or health care. However, anyone who loves children can be useful, and given the size and diversity of the program, volunteers with different skills can most likely be accommodated.
Location
Cochabamba, Bolivia.
Hosting Situation (Board and Lodging)
The volunteer will live with a host family or in the project (in this case they have to sign a contract and share the values and respect the rules).
Explore our projects world-wide
Explore our Projects Database and find placements among over 800 volunteering opportunities in more than 40 countries.
Long-term Projects
You can see all the projects on a country leaving the Project Type field empty and selecting a country.
Short-term Projects
You can see all the projects on a country leaving the Project Type field empty and selecting a country.