AyO- Alternativas y Oportunidades (HON-4)

Type: Socially Excluded Groups: Minorities - Country: Honduras
Brief description and main aims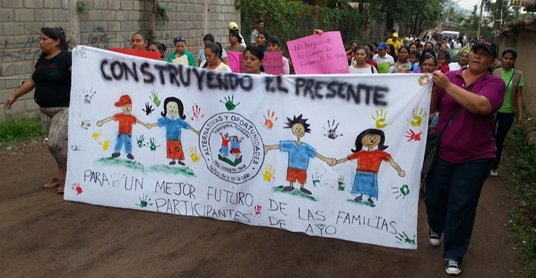 AyO-Alternativas y Oportunidades is a non-profit and non-governmental organisation that contributes to the reduction of social risk of children and youth who, due to their families' socioeconomic challenges, have to work in the markets and streets of Tegucigalpa and Comayagüela, the capital of Honduras, providing them with alternative services of health and education through programmes and activities that meet their immediate needs, emphasising prevention for their social integration and recovery of their rights, fostering their participation and social outreach.
Main Activities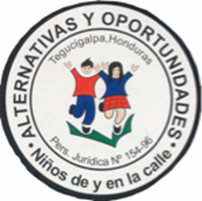 AyO's main programmes are:
School Support: fostering in children who work a spirit of achievement that motivates them to improve their quality of life through their incorporation into formal education.
Health Education: educate children so they try to and preserve their integral health and the one of their families.
Youth Club: contribute to the comprehensive training of youth who work in the markets and areas surrounding the city's rubbish dump, with empowerment and leadership through raising awareness and promoting a healthy and responsible lifestyle, with the aim of developing knowledge in the themes of sexual/reproduction health and generate alternative opportunities of participation.
School for Parents: mentorship and guidance to parents on social aspects to prevent and decrease the levels of risk of their children and families.
Medical Care and Psychological Care: providing comprehensive care to each beneficiary.
Volunteer tasks
Volunteers can support any programme and its projects according to her/his abilities and interests. The volunteer can choose to work with any of the three target groups: children, youth and parents. The work can be done both at the office (i.e. helping the staff with admin work, helping children, youth and parents with their homework or tasks, organising the office, helping with project planning, etc.), as well as in the markets (where most of the activities are carried out), with the possibility of proposals of personal projects related to the activities that AyO is carrying out.
Volunteer requirements / Skills
The volunteer should:
be at least 18years old.
be intrested in working with children
be responsible
be prepared for hard work
take initiative
demonstrate creativeness.
Because of the work that requires a lot of communication it is preferable to have some knowledge of Spanish.
No particular studies are required, social work experience is an asset.
Location
The project is located in Tegucigalpa, Francisco Morazán
Hosting Situation (Board and Lodging)
The volunteer will live with a host family.
More Information
The project is available to start in August and February every year for 6-12 months.
Social media:
Website: www.ayohonduras.com
Facebook Page: Alternativas y Oportunidades
You can request more information of this Project contacting ICYE Honduras: incoming@icye.hn
Explore our projects world-wide
Explore our Projects Database and find placements among over 800 volunteering opportunities in more than 40 countries.
Long-term Projects
You can see all the projects on a country leaving the Project Type field empty and selecting a country.
Short-term Projects
You can see all the projects on a country leaving the Project Type field empty and selecting a country.