Brigada de Voluntarios Bolivarianos del Peru (BVBP) is a national youth organization, founded in 1982. Its national office is in Lima, with local branches in most regions of the country. The main activities are youth leadership training, support to local communities, and intercultural exchanges of national and international volunteers.
The ICYE long and short-term programme in Peru has been suspended until further notice.
Peru is in western South America and shares borders with Chile, Bolivia, Brazil, Colombia and Ecuador. Ancient Peru was the seat of several prominent Andean civilizations, most notably that of the Incas. The principal centre of the Inca culture was the city of Cusco, from where the Incas governed more than 40, 000 kilometres of trails and hundreds of conquered towns. But their empire was captured by the Spanish conquistadors in 1533, which was an era of the great campaigns of evangelization and doctrinisation which in the end made Peru an authentic Spanish colony. Peruvian independence was declared in 1821, and remaining Spanish forces defeated in 1824. After achieving independence in 1821, Peru has undergone periods of political unrest and fiscal crisis as well as periods of stability and economic upswing. The first years of century XX were marked by one long civilian dictatorship headed by Augusto B. Leguía. The project to modernize to the country, to create work for a "new Mother country" became indebted the state. After a dozen years of military rule, Peru returned to democratic leadership in 1980, but experienced economic problems and the growth of a violent insurgency. Peru remains a developing country with a high Human Development Index score and a poverty level around 36%. Its main economic activities include agriculture, fishing, mining, and manufacturing of products such as textiles. The Peruvian population, estimated at 29.5 million, is multiethnic, including Amerindians, Europeans, Africans, and Asians. The main spoken language is Spanish, although a significant number of Peruvians speak Quechua or other native languages. The campesinos who stay in the Andean communities are those that place more importance on their culture and the Inca religion. In the south of Peru they are bilingual or speak Quechua monolingually. In the north, the native languages have totally disappeared. The jungle is relatively untouched where the many tribes and communities that remain have had little contact with the outside world. Its geography varies from the arid plains of the Pacific coast to the peaks of the Andes mountains and the tropical forests of the Amazon Basin.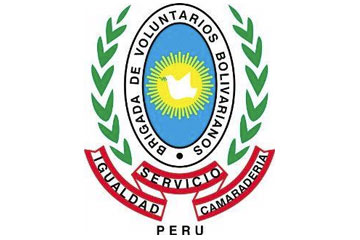 Organization's contact details
Brigada de Voluntarios Bolivarianos del Peru (BVBP)
Jr. Lucanas 332-A
Lima 01 – PERU
Tel: + 511 328-5143
Facebook
E-mail: bvbp_icyeperu@bvbperu.org