ICYE in the World
Long-term Projects
6 or 12 months:
Project Type
Countries
STePs Projects
2 to 16 weeks:
Project Type
Countries

"I.C.Y."- See why people volunteer with ICYE! Don't miss out on this incredible Video on Volunteering by ICYE UK! Watch here.
The 28th ICYE Ferderation biennial General Assembly was succesfully held in Kampala, Uganda, from 18 thru 23 November 2013. Read more. GA Group photo.
The October 2013 issue of the ICYE Newsletter on "Social Inclusion" is out.  Read here.
The ICYE Federation's Youttube Channel, feauturing videos on volunteering, has been launched! Take a look here

MORE THAN 60 YEARS OF
HANDS-ON GLOBAL VOLUNTEERING
ICYE is an international non-profit youth
exchange organisation promoting
youth mobility, intercultural learning and
international voluntary service, in more
than 40 countries around the world.
International Volunteer Day (IVD)
Theme for 2013: YOUNG.GLOBAL.ACTIVE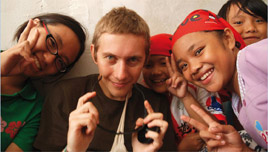 ICYE is affiliated to, works in cooperation with, and is supported by: