Kinawahan Integrated School (PHL-71)

Type: Sport/Leisure, Education - Country: Philippines
Brief description and main aims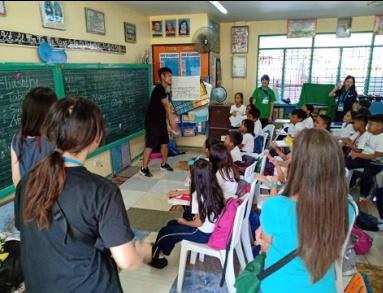 Kinawahan Integrated School aims to promote student quality learning potentials through various activities, academic and extra curricular programs and to provide students iwth opportunities to learn about different cultures and interact with foreigners.
The School has 12 classrooms, from kindergarten to 12 grade and each level has 1 classroom, 15 teachers and a school principal. The school has a small library with three hundred books donated by private individuals. In terms of facility, the school needs to improve in order to compete with other academic institution.
Main Activities
The School's main activities include:
Teaching, organizing/coordinating club activities, assist during school camps/field trips, supporting other school work, etc.
Assisting in the development of Music, Arts, and Sports
Assisting in tutoring sessions and/ or teach a foreign language
Volunteer tasks
The volunteering will focus on assisting the school renovation and beautification in order to compete with national standards for the public schools. Furthermore this voluntary service aims to help the students gain international cultural learning through interaction with the volunteers.
The volunteer will:
Assist the school teachers in teaching and organizing school activities.
Assist in school trainings and sport activities.
Mingle with the children/volunteers and other partners without prejudice and to share also his/her experiences from the country where she/he came from.
Volunteer requirements / Skills
The volunteer must:
be sociable and a team player
have a bigger heart for the disadvantaged and less privileged people
be flexible, open minded and able to adapt to local life situations •
be independent and able to work with limited supervision
be creative, innovative, adventurous and fun loving
have a strong sense of community
be willing to commit to fulltime work while in country
be able to speak and understand English
Location
Brgy. Kinawahan, San Remegio, Cebu
Hosting Situation (Board and Lodging)
The volunteer will live with a host family ( expect to have a shared room with your host sister or brother).
Explore our projects world-wide
Explore our Projects Database and find placements among over 800 volunteering opportunities in more than 40 countries.
Long-term Projects
You can see all the projects on a country leaving the Project Type field empty and selecting a country.
Short-term Projects
You can see all the projects on a country leaving the Project Type field empty and selecting a country.