Barangay Gilutongan, Cordova Island, Cebu (PHL-70)

Type: Environment, Education - Country: Philippines
Brief description and main aims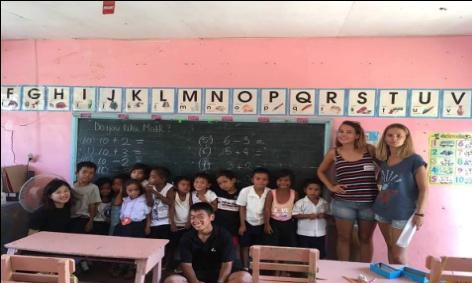 Approximately 1,500 people live in Barangay Gilutongan Island, Cordova, Cebu. It is 30 minutes away, by boat, from the main land. Some of the residence have never traveled to the city.
Fishing is their main source of income since most residence don't have an alternative way of living. Waste management is one of their main issues. Also, they don't have the adecuate capacity to improve/maintain their health and get a proper education. This island needs a lot of help from the volunteers to help enhance and maintain its beauty.
The projects main aims are to maintain and preserve marine sanctuary, to promote bio diversity, to educate and motivate the residence in the island about waste management, to promote the island as an eco-tourism destinationand, to provide basic education and to address nutrition deficiency of local children.
Main Activities
The project's main activities include:
Assist the Barangay officials and staff in the advocacy campaign about proper waste disposal and environmental management
Assist in coastal clean-up activities, etc.
Assist in the monitoring and management of the marine sanctuary
Assist day care teachers/elementary schools in academic and non-academic activities of the schools
Assist in the nutrition and health program of the Barangay for the children, youth and senior citizens
Volunteer tasks
The volunteer is expected to:
Organize sports, music, arts, etc. activities for the children and youth in public schools and communities
Teach English language and basic academic lessons
Assist the staff/local volunteers in the conduct of community related activities like community organizing, research, monitoring and evaluation, capacity building programs and other non-formal education, etc.
Create/Organize activity to educate the people environmental/health projects
Volunteer requirements / Skills
The volunteer should:
ber sociable and a team player
have a bigger heart for the disadvantaged and less privileged people
be flexible, open minded and able to adapt to local life situations
be independent and able to work with limited supervision
be creative, innovative, adventurous and fun loving
have a strong sense of Community
be willing to commit to fulltime work
Location
Brgy. Gilutongan, Cordova Island, Cebu
Duration
This is a short term program available from February to November only.
Hosting Situation (Board and Lodging)
The volunteer will live with a host fmaily with the basic accomodations ( a mattress, pillow and conforter . No electric fac or AC)
Explore our projects world-wide
Explore our Projects Database and find placements among over 800 volunteering opportunities in more than 40 countries.
Long-term Projects
You can see all the projects on a country leaving the Project Type field empty and selecting a country.
Short-term Projects
You can see all the projects on a country leaving the Project Type field empty and selecting a country.