Deshpande Foundation (IND-97)
Brief description and main aims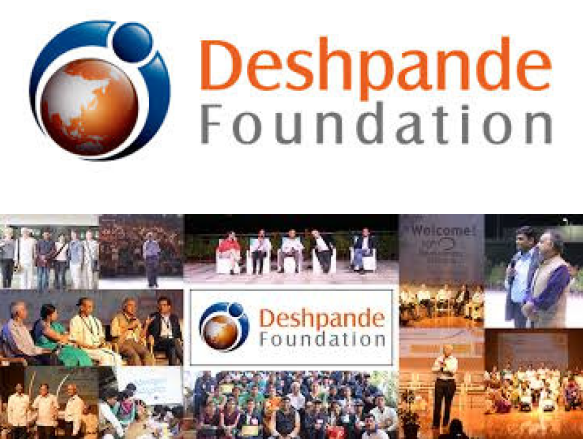 Our approach is not merely solving a problem but building an ecosystem that enables ideas and entrepreneurs to complement each other for a large impact.
We started the Hubli Sandbox, thorugh Deshpande Foundation, to support mission-driven individuals to come up with sustainable and scaleable enterprises having social and economic impact. The Sandbox is engaged in creating a pool of critical problem solvers who can find innovative solutions in different areas, and thereby address the challenges of the local community like poverty, income inequality and lack of access to basic facilities.
Main Activities
Many young people in India's rural and semi-urban areas have extraordinary capabilities and entrepreneurial skills. Through the Sandbox's bottom-up approach, Deshpande Foundation India equips them with necessary skills, provides those grants and infrastructure to experiment, puts them through the right networks, and maximizes their potential by constantly engaging them. The Sandbox environment is the combination of the execution excellence of forprofits and the compassion of non-profits.
A number of educational and mentorship initiatives-LEAD, Sandbox Startups and Grantmaking - that run simultaneously in the Sandbox ecosystem are enabling local youth, entrepreneurs and agripreneurs to be the catalysts of social change. Our efforts have started bearing fruits in the Hubli Sandbox area in Northwest Karnataka. We have touched the lives of many with our differentiated approach and constructive interventions in livelihood, health, agriculture and education.
Volunteer tasks
Teaching
Learning how to communicate across cultures has become more important than ever - increase your chances in today's global job market and explore astonishing India by becoming an English Teacher at Deshpande Foundation.
Communications
This role is crucial for keeping the community informed, as well as spreading the word about Deshpande Foundation and its actions.
Event Management
Deshpande Foundation inspires its members, students and followers through live events. Multiple gatherings are organised on a daily basis and many of them require event management support.
Media
Creating graphics and audio-visuals helps us showcase all the great work we do, both in India and abroad. That is why we are looking for creative individuals with an interest in graphic design, photography and filming to show the world what we are capable of.
Volunteer requirements / Skills
Volunteers need to be proactive, energetic and flexible. Strong skill sets that match the internship chosen.
The volunteer must have strong English language skills (enough to communicate fluently) as it is required for any communication.
Location
Hubli, officially known as Hubballi, is the second largest city in Karnataka. It forms continuous urban area with the city of Dharwad. Hubli-Dharwad is the largest conurbation in the state after capital Bangalore and is located 85 kilometres south of Maharashtra-Karnataka border.
Hubli-Dharwad has a tropical wet and dry climate. Summers are hot and dry, lasting from late February to early June. They are followed by the monsoon season. It is fairly moderate from late October to early February, with virtually no rainfall.
Hubli is the commercial hub of Karnataka. It has a wide cluster of industries and has more than a lakh small and medium industries. A junction on the railway line, Hubli is well connected on rail, road and air.
Duration
Minimum (weeks) : 4 weeks
Maximum (weeks) : up to one year
Hosting Situation (Board and Lodging)
The volunteer wil stay at the project's guest house.
Explore our projects world-wide
Explore our Projects Database and find placements among over 800 volunteering opportunities in more than 40 countries.
Long-term Projects
You can see all the projects on a country leaving the Project Type field empty and selecting a country.
Short-term Projects
You can see all the projects on a country leaving the Project Type field empty and selecting a country.