Тhe Centre of Creative Development "Volshebniki" (RUS-23)

Type: Education, Children - Country: Russian Federation
Brief description and main aims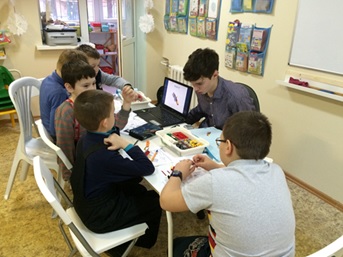 The Centre of Creative Development "Volshebniki"(CCD "Volshebniki") is located in Samara and aims to provide education and a safe space for children of a wide range of ages to spend their time while their parents are working.
The Centre started in November 2006 and has two branches located in nice, safe areas of the city near big parks.
The Centre aims to support children with learning difficulties and disabilities and provide good-quality education to children from low-income households. These children are taught for free or for a small fee to cover the cost of the staff at the Centre.
Main Activities
The teachers care for and educate about 80 children aged between 1 and 15. The children generally have demanding timetables from their state schools and come to the Centre in their free time for 3-4 hours a week. Children are offered a safe place where they can use their free time productively.
Volunteer tasks
Volunteers will work with children aged between 2 and 15, mainly in after-school (/after-kindergarten) groups. Some of the volunteer's tasks include:
preparing small activities for breaks or free time between lessons
organizing different events
playing with children during breaks and when the teachers need to work alone
assisting teachers in the classroom and following the lesson plan
helping teachers prepare classes and workshops
acting as a responsible adult and maintaining discipline
interacting with children through games, songs, drawings and workshops
having direct contact with the children
being a role model, to act responsibly and to maintain discipline
helping clean up the class room, playroom and corridor after sessions
helping the children with school projects
organizing their free time and lead masterclasses in accordance with their abilities and interests
We are willing to offer our volunteers the opportunity to learn how to organize leisure time activities and we will also show them different methods for working with children of different ages. We would appreciate help with languages activities. We want to give our volunteers space for their own activities and ideas.
Volunteer requirements / Skills
The volunteer should
be between 18-30 years old (flexible)
have a strong motivation and desire to work with children
have strong communication skills
be observant
be responsible
Previous experience working with children and knowledge of Russian are welcomed, but not essential.
Location
The centre is located in Samara.
Hosting Situation (Board and Lodging)
Volunteers will live either in host families or in a flat shared with other international volunteers in the city of Samara.
Explore our projects world-wide
Explore our Projects Database and find placements among over 800 volunteering opportunities in more than 40 countries.
Long-term Projects
You can see all the projects on a country leaving the Project Type field empty and selecting a country.
Short-term Projects
You can see all the projects on a country leaving the Project Type field empty and selecting a country.