Christine Revell Home (ZAF-28)

Type: Human Rights: Children Rights - Country: South Africa
Brief description and main aims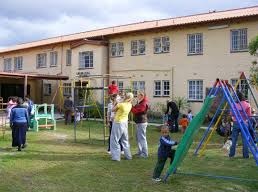 Christine Revell Home is Non-Profit organisation which houses abandoned and abused children who are referred from Dept Social Development and other NGO's for short term placement. There are currently 49 children from newborn to 6yrs of age who are cared for by 21 full time staff members. MitchellsPlain is an area where many of the people were displaced under the Group areas Act (1960's), this has led to many socio- economic problems and the challenges faced by organisations like Christine Ravell home in ensuring that children have a safe haven and proper care who comes form abuse and neglected homes from all over Cape Town.
Main Activities
The main focus of the project is to place children back into the care of the biological parents after review by the social worker, or be placed in the care of the grandparent, alternate family member, foster care or if possible, adoption.
The Home also runs a crèche (kindergarten) called Little Star Educare which is operated by 3 staff members for three age groups.
Volunteer tasks
Taking children to clinic and hospital appointments
Assist in day outings where the need arises
Assist with bathing and feeding
Take children on nature / fresh air walks
Assist in after school program for older children in small group activities
Assist staff where needed
Volunteer requirements / Skills
Administrative skills
English language
Self motivated & Creative
Ability to communicate with young children
Be hands on with the children
Flexibility
Have a passion for working with vulnerable children
Location
The project is situated in what is called the Cape Flats which gets its name from the flat sandy stretch of land located in the outskirts of Cape Town Central. Residents of the area are predominantly of mixed race decent which is formally referred to as 'coloured" as specified by the previous Apartheid regime.
Duration
Minimum: 12 weeks
Maximum: 16 weeks
Hosting Situation (Board and Lodging)
Host family accommodation in Athlone or surrounding areas. Volunteers will use public transport (bus or mini-bus taxi) to and from Work Placement.
Food is provided by the host family.
Explore our projects world-wide
Explore our Projects Database and find placements among over 800 volunteering opportunities in more than 40 countries.
Long-term Projects
You can see all the projects on a country leaving the Project Type field empty and selecting a country.
Short-term Projects
You can see all the projects on a country leaving the Project Type field empty and selecting a country.