Nireekshe (IND-66)
Brief description and main aims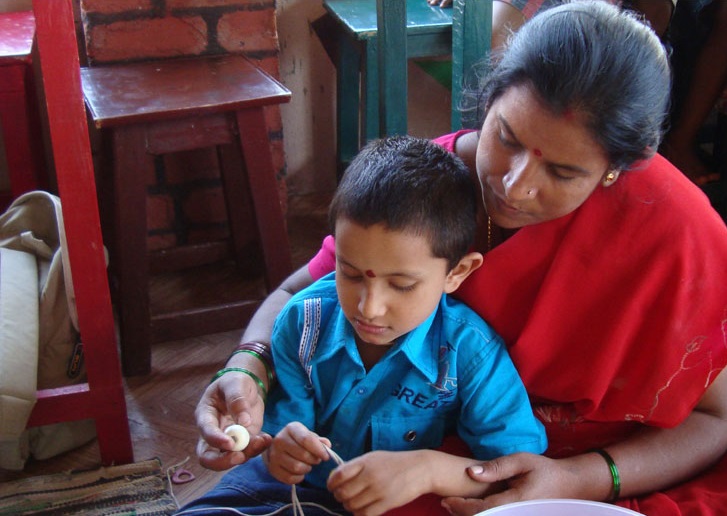 Nireekshe is a learning and activity centre for special children. We have children with various disabilities such as Mild and moderate retardation. Autism, Cerebral Palsy, Attention Deficit Hyper Activity disorder (ADHD). We take children with IQ not less than 45.
The centre is open from 10.00am to 3.30pm from Monday to Friday. We have 30 children with disabilities, 12 children who are having learning disabilities and are being traind for the 10th grade board examination through National Open schooling.
In total we have 42 children. All are between the ages of 6 and 18. We have 15 teaching staff member, out of which 4 are coming here for voluntary service.
Main Activities
Our main activities are:
working on academics
offering therapies like dance, yoga
teaching the children some vocational skills, crafts, music, dance and arts, which not only help the students develop academically but physically, socially and emotionally as well.
Volunteer tasks
The volunteer should learn how to teach disabled children. In order to do so they are given orientation on such topics and are allowed to handle the child independently
Volunteers are also taught how to make a case study - individual educational plans for each child and execute it. They are allowed to take part in all day to day activities.
Volunteer requirements / Skills
All we want is a person who has love for such children. Patience is the main ingredient for working here and an intrest in learning a new language is an added advantage.
We have no requirements for age or gender.
Location
The activity Centre is located in an upper middleclass residential area in Mysore. Mysore is a safe and clean city. Even centre is located in a decent residential area.
The Centre is clean and has a welcoming atmosphere for working. There is no need not worry about risks of diseases.
Duration
Minimum: 12 weeks
Maximum: up to one year
Hosting Situation (Board and Lodging)
The volunteer will live with a host family.
Explore our projects world-wide
Explore our Projects Database and find placements among over 800 volunteering opportunities in more than 40 countries.
Long-term Projects
You can see all the projects on a country leaving the Project Type field empty and selecting a country.
Short-term Projects
You can see all the projects on a country leaving the Project Type field empty and selecting a country.