Morning Star Center - North (VNM-17)
Brief description and main aims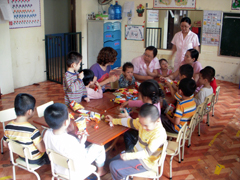 The Morning Star Center is a non-profit, non-governmental organization ,founded on December 1995, for the early detection and care of mentally impaired children. Chaired by Professor Nguyen Tai Thu, it is a subsidiary of the Vietnam Relief Association for Children with Disabilities and has nearly 70 staff members caring for approximately 240 children ranging in age from 1 to 16 divided into 19 classes. The number of children changes from time to time.
Amongst the staff are teachers, psychologists, nurses, doctors and physiotherapists whose mission it is to promote charitable activities that help provide opportunities for children with mental impairment receive an education and feel included in their local community. In particular, the center strives to provide assistance for those children suffering from developmental disabilities including Down syndrome, Autism and Cerebral Palsy.
Main Activities
The center offers some vocational and pre-vocational courses for teenagers, in addition to sending them to outside vocational schools. The courses help increase the children's independence and confidence, and their abilities to get enrolled in professional training centers outside. Having recently set up a coffee shop at the entrance of the center, some of the children help out and in the process receive valuable experience in working and interacting with the public.
Volunteer tasks
In general, the work is quite challenging and requires volunteers to be active and patient. The volunteer can help with the following:
Caring for Autistic children.
Playing with the children with provided toys.
Helping children do some movements (walking, standing up or jumping, etc.).
Washing childrens' hands and face.
Helping the children with drawing and coloring.
Cleaning .
Guiding & helping the children go to and use toilet.
Feeding the children during lunch time.
Helping the children who are not able to feed by themselves.
Helping the teacher make teaching material such as drawing, painting, modeling. (depending on volunteer's ability).
Sharing with the teacher teaching methods.
Organizing games and other activities for children.
Teaching English to the staff/teacher in leisure time.
Calling for charity or Subscription, editing document (depends on volunteers).
Working hours: Usually from 8.30 am to 4 pm (Mon – Fri), but the schedule is quite flexible.
Travel to work: about 1 hour by bus.
Volunteer requirements / Skills
Volunteers should:
Like to work with children with disabilities.
Be mature and take initiative.
Be patient and creative.
Be active.
Be open-minded and sociable.
Be willing to learn more about the country and integrate inot the local community.
Be at least 18 years old
Preference: Volunteers with background or experience in medical work or disability. However, volunteers without experience or background will still be able to join.
Location
The centre is situated in Thanh Xuan District, Hanoi.
Duration
Minimum:4 weeks
Hosting Situation (Board and Lodging)
Volunteers will stay in a dormitory with rooms shared with other volunteers. Living conditions will be Vietnamese standard with shared bathroom, shared room with bunk-beds. Mattress, blanket, pillow and mosquito net are provided.
Food will be provided at accommodation. Meals will be mostly local food, which vary from the daily cooking schedule.
During working days, volunteers can eat lunch outside by themselves.
Explore our projects world-wide
Explore our Projects Database and find placements among over 800 volunteering opportunities in more than 40 countries.
Long-term Projects
You can see all the projects on a country leaving the Project Type field empty and selecting a country.
Short-term Projects
You can see all the projects on a country leaving the Project Type field empty and selecting a country.