Jagrutha Mahila Sangha (IND-106)
Brief description and main aims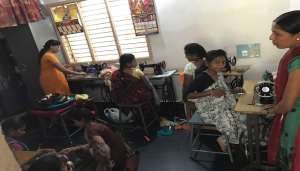 At Jagrutha Mahila Sangha we work to support women who face various types of challenges or abuses such as women who have been destituted, victims of domestic violence, women who have been victims of dowry harassment, women with alcoholic problems, women who have trouble with thier spouse, in-laws and parents, and women who have been victims of rape and human traficcking, among other things.
Main Activities
To provide shelter
To patiently hear and understand each situation
To give immediate aid, if required
to provide food, clothes, and medical help to the women who seek our help & her children
After writing down complaints we ask the individual what type of relief she requires
On request of the complainant, we summon her husband/in –laws etc, against whom she is aggrieved or approach the police etc.
Rebuild of rehabilitate.
Work toward women empowerment
Volunteer tasks
The volunteer will:
visit the villages where women who we help come from so we can have a better understanding of the root of the problem
observe and offer some counselling
understand the Indian culture and Kannada language
do some vocational training
train our clients
manage complaints
get involved in our awareness programme, legal aid programme, or counselling college girls about safety measures.
Volunteer requirements / Skills
The volunteer should:
be able to adjust to the local environment
have studies or be interested social welfare
be open minded
be able to understand the facts
be gentle
be a problem solver
Location
Davanagere is located between Karnataka and Capital City of Karnataka. It is famous for education and business, it has 5 Taluk head quarters' and Asia's second largest irrigation tank is situated in this district called Shanthi Sagara (Sulekere), and Davanagere called as Shikshana Kashi. This as a mixed community andd the entire region is divided into partially irrigated land & partial dry land.
Hosting Situation (Board and Lodging)
The volunteer will live in the project.
Explore our projects world-wide
Explore our Projects Database and find placements among over 800 volunteering opportunities in more than 40 countries.
Long-term Projects
You can see all the projects on a country leaving the Project Type field empty and selecting a country.
Short-term Projects
You can see all the projects on a country leaving the Project Type field empty and selecting a country.