Chiguru Farm (IND-99)

Type: Environment, Agriculture - Country: India
Brief description and main aims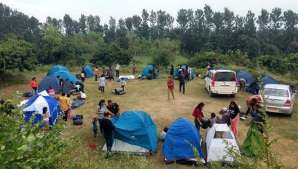 Chiguru Farm is a sprawling 25-acre organic farm close to Bengaluru, India. Banana, Mango, Coconut, Arecanut, Rose Apple, Lemons and 30 different varieties of fruits and vegetables are being grown here. A cowshed rearing a few local/Desi varieties caters to the needs of the organic farming techniques adapted here. All the organic waste in the farm is converted into vermicomposting in the in-site plant. Towards leaving a healthy earth, soil and environment for the future generations, Chiguru has adapted Organic Farming with an integrated self-sustaining approach, with a mix of traditional farming knowledge and contemporary techniques and technology. Chiguru is also an experiment ground with infrastructure for imparting such knowledge to school children and families with handson experience in different aspects of organic farming.
Families can visit the farm either on a day-trip or stay on an extended holiday to soak in the pure, clean air, get hands dirtied with farm activities and enjoy the rural/village surroundings along with local wholesome food. Chiguru aims to promote growing healthy food, sustainable living, generate local employment and create awareness among urban people on agriculture. We currently employ (as of Nov 2018) 9 full-time employees and 4-8 additional workers on daily wages which varies depends on the season and activities.
Volunteer tasks
Depending on the seasonal needs, there will be farm activities like planting, harvesting, deweeding, pruning, manuring, spraying, watering, mulching, tending to farm animals, collecting organic inputs, preparing organic manures/pesticides, beekeeping, etc.
We expect the volunteers to actively participate in any of these activities (after teaching them if they don't know). In addition the volunteers are welcome to participate in preparing food for themselves and/or our guests.
Volunteer requirements / Skills
As this volunteering involves significant amount of manual work, physical fitness is key. Social skills to get involved with the local workers are also important.
Ability to learn the local language will be a big plus because most of the local people don't know English.
Location
Chiguru Farm is located in the agriculture zone adjacent to the Bilikal Forest (which itself is in the buffer zone of Bannerghatta National Park). The farm is surrounded by little hamlets with populations of around 1000 each.
The local community is mainly dependent on agriculture, some people cultivate their own land while others work in land that they do not own. The majority of the people in these villages can be categorized either as slightly above the poverty line or in the lower middle class. Major crops in the area are Ragi, Pulses, Banana, and Coconut.
Hosting Situation (Board and Lodging)
Hosting situation will be organised in the farm.
Explore our projects world-wide
Explore our Projects Database and find placements among over 800 volunteering opportunities in more than 40 countries.
Long-term Projects
You can see all the projects on a country leaving the Project Type field empty and selecting a country.
Short-term Projects
You can see all the projects on a country leaving the Project Type field empty and selecting a country.