English teaching at Nguyen Tat Thanh School (VNM-127)

Type: Education: Teaching languages - Country: Vietnam
Brief description and main aims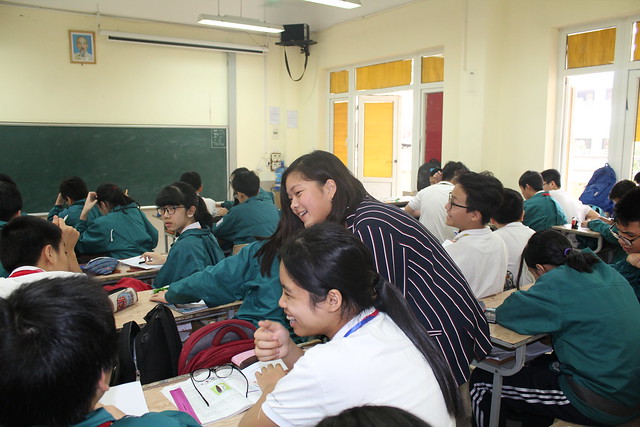 The school composites secondary school (grade 6-9) and highschool (grade 10-12), There is very little chance for the pupils and teachers to meet foreigners to practice English and exchange communication skills.
At this school, English has recently been paid more attention by the teachers and students. However, local teachers only tend to focus on teaching the students grammar and do not focus on the speaking and communicational skill which they are not very strong at.
Main Activities
The aim of the program is to provide English language speaking environment for pupils to practice and improve their confidence in using a foreign language in communication. At the same time, with the support of the international volunteers, the local teachers can improve their speaking skills and get to understand more about the culture of the language that they are teaching.
Volunteer tasks
Upon request of teachers, volunteers run the activities in the class. They are asked to help students develop speaking and listening skills. Vietnamese schools traditionally favor 'passive learning' – the teacher standing in front and lecturing. This does not help students to gain confidence in speaking. The pronunciation of the English teachers is not excellent so the children have little opportunity to hear English as it is really spoken. Moreover, English levels of students are very different. Some are very outstanding in terms of pronunciation and performances meanwhile, some are very shy to speak out.
Volunteers can think about games or interactive activities to let all students get involved in the lessons.
Working as a local teacher
Each class is run by an English-speaking Vietnamese teacher who teaches according to the governmental English books. The volunteers will join one lesson of the teacher to know how they teach, after that the volunteers will prepare activities and games to practice pronunciation and communication skills with the students. The teacher will let the volunteers lead the class the whole time, during 45'. The volunteers can prepare the lessons freely, choosing the topics, activities, discussions or games they prefer. They do not have to follow the governmental book.
Assisting a local teacher
Some teachers prefer volunteers support them. In this case, volunteer should assist the teacher while doing exercises, correcting the pronunciation, keeping them in silence or helping the teacher in any activity required.
If the volunteer does not feel confident he/she can start supporting the teacher, with the possibility to teach alone after some weeks.
Working time
Each class has one Vietnamese English-teacher with 25 to 40 students, depending on the class. Each period lasts for 45 minutes.
The volunteer participates in different classes per day, working from Monday to Friday. The general timeframe at school is from 7:50 to 17:20. The lunch break is between 11:15 and 1:05 o'clock. Depending on volunteers' schedule, he/she has different beginning and ending time.
Travel to work from volunteer accommodation: 20 minutes on foot.
Volunteer requirements / Skills
Volunteers should like to work with children and students, maturity and initiative spirit. Volunteers should be able to work independently in the classroom.
Fluent English
Age: 18 or over
Be open-minded and sociable.
Be willing to learn more about the country and adapt to different and working style in Vietnam.
Location
The school is located in Cau Giay District, Hanoi. Nguyen Tat Thanh School, established on July 4th 1998, is located inside the campus of Hanoi University of Education and Training in Cau Giay district, Hanoi, which is about 8 km away from Old Quater (city center). It is a very lively and convenient area.
Hosting Situation (Board and Lodging)
Volunteers will stay in a dormitory with rooms shared with other volunteers. Living conditions will be Vietnamese standard with shared bathroom, shared room with bunk-beds. Mattress, blanket, pillow and mosquito net are provided.
Food will be provided at accommodation. Meals will be mostly local food, which vary from the daily cooking schedule. Volunteers, especially those who are vegetarian may be required to do some cooking by themselves. During working-days food is provided by the host placement..
More Information
Volunteers needed: 2.
Explore our projects world-wide
Explore our Projects Database and find placements among over 800 volunteering opportunities in more than 40 countries.
Long-term Projects
You can see all the projects on a country leaving the Project Type field empty and selecting a country.
Short-term Projects
You can see all the projects on a country leaving the Project Type field empty and selecting a country.