Ecol'o Bambins (FRA-26)
Brief description and main aims
The Ecol'o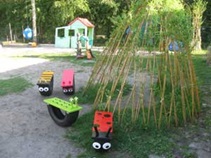 Bambins School is the first Montessori school created on the Bassin d'Arcachon, France. The school was created in 2009.
The Ecol'o Bambins is located in the Regional Natural Park of the Landes de Gascogne. Forest and river near to the school environments offer rich biodiversity (fauna and flora). This privileged location makes the school really active in the ecology sphere (eco-citizenship and respect for the environment)
Main Activities
The school welcomes children from 2 to 9 years old, and offers Montessori educational methods based on:
·Trust and respectful human relationships
·Two unfazed atmospheres which favor the learning process (2-6 years old and 6-12 years old children)
·Clear and structured educational methods
·Individual work in a collective setting
·Experiences and discoveries by the child himself. The child work with his own rhythm.
·Learn with concrete experience before taking on abstraction
·A self-corrective materiel which allows the child to self-evaluate
The school ambition regarding the education is help the child to develop:
·Self-confidence and autonomy
·Curiosity and willing to learn
·Listening capacities, tolerance and respect
Volunteer tasks
The volunteer will support the educators. He/She must enjoy working with young children.
The volunteer will also participate in the school's life and should be dynamic, kind, pragmatic, creative and curious. The volunteer will also have the task to create different activities (language courses, cultural activities, songs, stories, workshop). The volunteer will have to participate actively to administration tasks, care of farm animals, etc.
Volunteer requirements / Skills
The volunteer must be prepared to teach with different methods and tools. She has to make an effort to understand and respect these educational methods chosen by Maria Montessori Ecol'o Bambins School. She has to show concern in her work with the children, has to be patient and flexible. The volunteer must take initiatives and carry the school project. Besides, the volunteer has to be ready to involve herself and create a real intercultural exchange.
*This project only accept women coming from Latin America because of the work they planned.
*As the school year ends in June, the volunteer has to take into account that she may participate during July and August in workcamp in France
Location
Mios is near to Bordeaux, Gironde departement (South West of France). Mios is located in the heart of the forest Landes de Gascogne, in the Natural Regional Parc of Landes de Gascogne.
The city of Mios is about 7000 inhabitants and offers great leisure time.
Hosting Situation (Board and Lodging)
The volunteer will be hosted in a family during the year.
Explore our projects world-wide
Explore our Projects Database and find placements among over 800 volunteering opportunities in more than 40 countries.
Long-term Projects
You can see all the projects on a country leaving the Project Type field empty and selecting a country.
Short-term Projects
You can see all the projects on a country leaving the Project Type field empty and selecting a country.