ICYE in the World
Long-term Projects
6 or 12 months:
Project Type
Countries
STePs Projects
2 to 16 weeks:
Project Type
Countries

The latest issue of the ICYE Newsletter on "Working towards intergenerational solidarity" is out.  Read here.
The ICYE Federation's Youttube Channel, feauturing videos on volunteering, has been launched! Take a look here

EYV 2011 - Volunteering Matters! 16 EVS volunteers wrote "action-research" reports that describe and analyse the issues around volunteering and its impact on volunteers and local communities in 4 African, 3 Asian, 5 EU and 4 Latin American  countries. Read their reports here.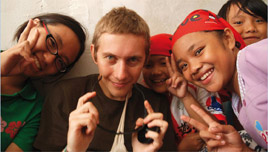 ICYE is affiliated to, works in cooperation with, and is supported by: