School project "Otkrytie" (Discovery) (RUS-25)

Type: Education, Disabled, Children - Country: Russian Federation
Brief description and main aims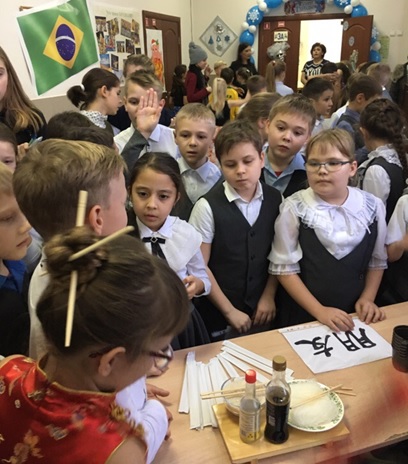 School project "Otkrytie" (Russian for "Discovery") is an educational project within a State School 92. The school itself is an ordinary primary and secondary educational institution in the city of Samara, Russia, but there is a focus on diversity and studying languages. During the school year, we often invite international students to join our classes, we organize events to learn about other cultures and customs around the globe.
The aim of the project is to prepare children to live in a multinational world, have cultural awareness and improve English skills. Moreover, some children from the school mentor and partner an organization for deaf children.
Main Activities
The volunteer will help organize class, educational activities, school events and extra curricular activities for children from the age of 7 to 16. Additional work may include working with deaf children
Volunteer tasks
The volunteer's tasks include:
Assist teachers and work with children, which may include helping in classroom activities, playing games,

toy-making, crafting, painting, music, modelling, theatre etc;

Organizing and assisting in language classes and workshops

Making mid-term educational and recreational plans
Assistance in organizing activities for deaf or hard-of-hearing people
Assistance in organizing holidays, camps, retreats and festivals
Assistance to the staff in everyday work.
Typical Daily Schedule:
Monday–Friday: 5-hour working day; Saturday–Sunday: days off.
8.00 – 8.30 – preparing for the day;
9.00 – 12.30 – leading classes, sport lessons;
12.30 – 13.30 - lunch;
13.30 – 14.30 – going for a walk with kids;
14.30 – 16.00 – planning further days/ events, having extra classes activities, playing or helping with homework
The schedule may be flexible (20-35 hours a week).
Volunteer requirements / Skills
Desired volunteer's skills are:
Age 18-30.
Motivation and willingness to work with children
Previous experience of working with children (obligatory)
Previous experience of working with people with disabilities (welcomed)
Strong communication skills, flexibility and responsibility
Creativity and experience with crafting (drawing, toy-making, knitting, modelling, etc.)
Cultural experience and open-mindedness
Musical skills
Fluent English (obligatory)
Basic knowledge of Russian (an advantage but not obligatory)
Location
The project is located in the Center of Samara, a Russian city of 1 million people, 1.5 hours flight from Moscow. Stands on the river Volga, safe city, developed infrastructure, public internet, base point for travelling in European or Asian part of Russia. Continental climate with snowy winter and hot and sunny summer.
Duration
Minimum: 8 weeks
Maximum: 54 weeks
Hosting Situation (Board and Lodging)
The volunteer will live in a host family in a private room. Lunch will be provided at school. The school is easily accessible by public transport
More Information
A winter jacket, boots and a hat will be needed in winter.
It would be great to have something from a volunteer's culture.
Explore our projects world-wide
Explore our Projects Database and find placements among over 800 volunteering opportunities in more than 40 countries.
Long-term Projects
You can see all the projects on a country leaving the Project Type field empty and selecting a country.
Short-term Projects
You can see all the projects on a country leaving the Project Type field empty and selecting a country.