Fundación San Antonio (COL-104)
Brief description and main aims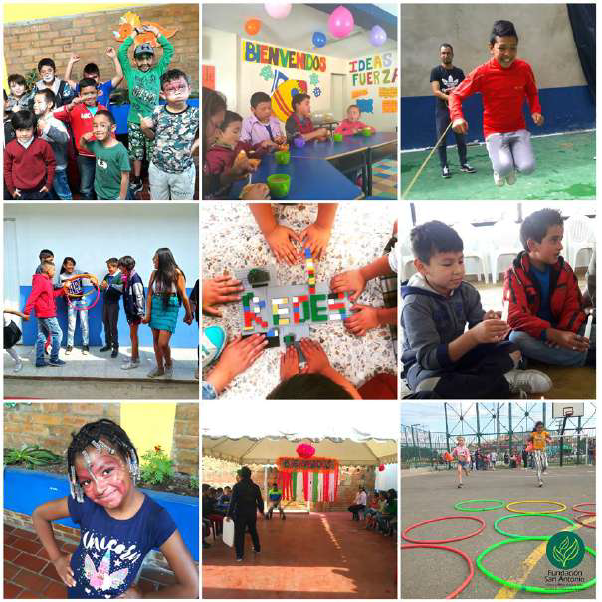 Fundación San Antonio aims to offer integral attention to children and teenagers in Bogotá who need it the most and provide them with protection, inclusion, prevention and capacitation for their lives.
Main Activities
We work for children and adolescents in situations of high social vulnerability. In Fundación San Antonio, they can find the opportunity to grow as independent citizens, to build their life project and thus dream of a better tomorrow.
We educate the children and youth of Bogotá, with ethical and Christian values to transform their future and that of their families.
We guarantee their rights, preventing all forms of mistreatment, abuse and psychosocial risks. In this way, our beneficiaries conquer spaces of inclusion through education for life. Fundación San Antonio welcomes children with affection, cares for them with care and educates them integrally.
Our commitment is a contribution to make the Millennium Development Goals a reality in Bogota. We want children to come first, that their rights prevail, that they are not lost in the vicious circle of poverty, that no one suffers hunger and that they do not abandon the educational system.
Volunteer tasks
The volunteer will:
Help the younger children with their homework

Work together with the different teachers to help with and propose activities with the children

Plan activities to help the children to learn English

Help with any activity where it is needed
Volunteer requirements / Skills
It is expected that the volunteer has an affinity to work with children and teenagers. They should be a respectful person ready to listening and learning.
They should have team abilities and preferably artistic abilities (e.g. dancing, music, theatre)
Location
The project is locate in Bogota, Cundinamarca.
Bogotá is the capital of Colombia and the political, economic, administrative, industrial, artistic, cultural, and sports centre of the country. It is the biggest city in Colombia, the third highest in the world above sea level and known for its high number of universities, libraries and cultural events. It has a population estimated of around 10 million people.
Hosting Situation (Board and Lodging)
The volunteer will live with a host family.
More Information
This project is available for 2 volunteers.
Explore our projects world-wide
Explore our Projects Database and find placements among over 800 volunteering opportunities in more than 40 countries.
Long-term Projects
You can see all the projects on a country leaving the Project Type field empty and selecting a country.
Short-term Projects
You can see all the projects on a country leaving the Project Type field empty and selecting a country.