Education project in Hoa Binh- North (VNM-139)
Brief description and main aims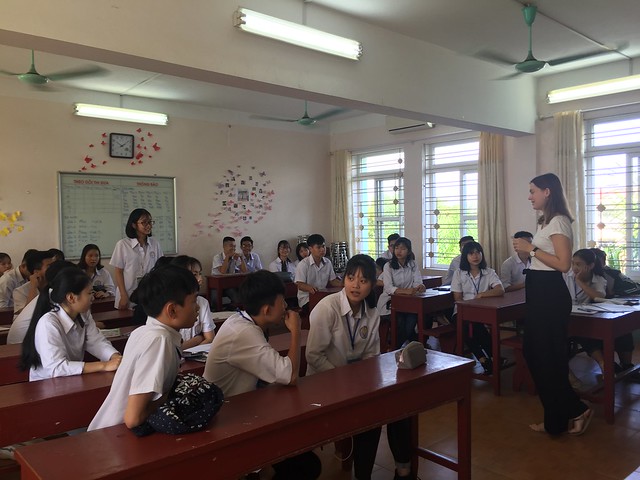 Hoa Binh is a province in the North of Vietnam and there are not many foreigners in this province, so the students here don't have many chances to meet and interact with foreginers. Therefore, VPV sends interntional volunteers here to help local students improve their English and learn about different cultures.
Volunteers are usually sent to some local high schools, joining English teaching project to students between 15 and 18 years old. The English levels of the students differ from one school to another, even from one class to another. In classes which are specialized in English, students have a better knowledge of English; in other classes, students have very basic English skills.
Volunteer tasks
Upon request of teachers, volunteers run the activities in the class. They are asked to help students develop speaking and listening skills. In many cases, volunteers will work alongside with a local teacher, assisting the teacher with correcting students' pronunciation, keeping them in silence or helping the teacher in any activity required.
Sometimes, when the volunteers are confident enough, the teacher will let the volunteers lead the class the whole lesson (around 45 minutes). The volunteers can prepare the lessons freely, choosing the topics, activities, discussions or games they prefer. They do not have to follow the governmental book.
Travel to work: 5 minute walking.
Volunteer requirements / Skills
Volunteers should:
Like to work with children.
Be mature and take initiative.
Be able to work independently in a classroom.
Be fluent in English.
Be open-minded and sociable.
Be willing to learn more about the country and integrate into the local community.
Be at least 18 years old
Location
The project is located in Hoa Binh city, Hoa Binh province, Vietnam.
Duration
Minimum:12 weeks.
Hosting Situation (Board and Lodging)
Volunteers will stay in teacher/guest rooms in school campus. The rooms are equipped with cooking stuff so that volunteers can cook for themselves.
Explore our projects world-wide
Explore our Projects Database and find placements among over 800 volunteering opportunities in more than 40 countries.
Long-term Projects
You can see all the projects on a country leaving the Project Type field empty and selecting a country.
Short-term Projects
You can see all the projects on a country leaving the Project Type field empty and selecting a country.