Jnanasagara Public School (IND-105)
Brief description and main aims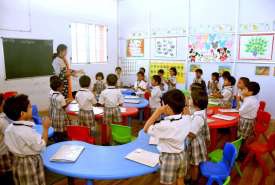 Jnanasagara Public School is an initiative of Sanjay Vidya Kendra (registered Society) whose primary objective is to provide quality education for the rural masses. The Society itself was established in the 1980s and has successfully run a polytechnic college for the last 3 decades. Jnanasagara Public School was established in 2017, we hope to be affiliated to the CBSE soon.
Currently managing pre-primary and primary education, Jnanasagara has 11 staff members. With the aim of bringing quality, up-to-date educational practices to the people of Sagara, rather than bringing in teaching faculty from outside this region, we find it more purposeful to tap into the regional talent as they can connect with the students better. But with the local resources English not being their language of communication, laying the foundation for a school with English as the medium of instruction becomes quite a challenge. We want to raise the quality of communication amongst teachers and open up their minds to more creative thought processes.
Volunteer tasks
The volunteer will primarily work alongside the class teacher in conducting the daily lessonsand provide their own input in terms of being more holistic in the teaching methods. They can also involve the children in more nature based experiences and outdoor activities in the learning process.
Tasks will be on a daily basis and can be decided in conjunction with the teaching faculty. The output of their efforts should provide for a more holistic development of the child.
Volunteer requirements / Skills
We are looking for a female volunteer who has strong English teaching skills and displays a positive attitude and good behaviour.
Location
Sagara Taluk is part of the Malnad region of Karnataka and the students of both the college and school are essentially from farming families in the surrounding rural areas. Though agriculture is the mainstay of the community, its thriving culture of dance and drama plays an important role in conserving the heritage of this region.
Duration
Minimun: 3 months
Maximum: 12 months
Hosting Situation (Board and Lodging)
The volunteer will stay at the project's guest house.
Explore our projects world-wide
Explore our Projects Database and find placements among over 800 volunteering opportunities in more than 40 countries.
Long-term Projects
You can see all the projects on a country leaving the Project Type field empty and selecting a country.
Short-term Projects
You can see all the projects on a country leaving the Project Type field empty and selecting a country.