Gia Dinh special school for autistic children- South (VNM-92)
Brief description and main aims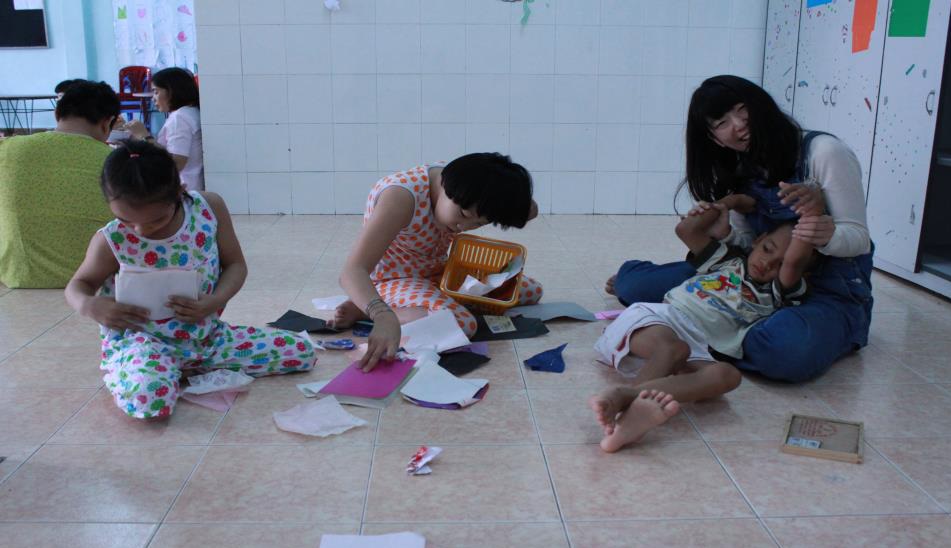 To help autistic children with special needs such as training and educating children with intellectual impairment in the areas of early intervention, specialization in skill development, social integration, and career development.
Main Activities
The school was founded with the aim at providing children both mental and physical activities:
Typical physical movements, such as walking, standing, running, jumping, and balancing
Fine motor skills, such as hand-eye coordination
Self-control in eating, dressing, bathing, swimming, and more
Language, communication, and social skills
Reading, writing, and math skills
A colorful, sociable personality in all aspects of life
Skills in weaving, sewing, cooking, arranging flowers or another craft of their choice
There are currently 86 children studying at the school, their age range is from 3 to 16.
Volunteer tasks
Volunteers will spend most of their time in the day-care room working with autistic children
When working with the local staff you will be required to assist them in providing basic exercises and therapy treatment for children. The staff will guide you and help you understand the need of each individual child
When caring for the children, you will soon realise that despite their disabilities they are simply regular children who want to play and have fun as much as any other child does!
Volunteers are encouraged to share their love, patience and enthusiasm through playing and educating with games, music and arts.
Group activities with the children through songs or games always have a positive impact on interaction development. While playing and interacting with the children volunteers must set a positive example and remember to be firm with misbehavior to help them understand what is right and wrong.
Volunteer requirements / Skills
Volunteers must be 18 years old minimum. Volunteers should like to work with children, show maturity and an initiative spirit. Besides this, volunteers should be patient, open-minded, creative and active in that working environment. Volunteers without experience or background will be able to join in the daycare room work, as children are very excited when meeting volunteers.
Location
The Gia Dinh special School is located at Binh Thanh District, HCMC.
Volunteers need to take 2 buses from volunteer house to the school ( Bus no.34 and no.18)
For most host projects the travel time from the VPV Peace House to the project is between 15-20 minutes by bus.
Hosting Situation (Board and Lodging)
Volunteers will stay in a dormitory, sharing rooms with volunteers of other nationalities joining the same program. Normally, rooms are arranged with about 2-4 volunteers per room. In the busy time, the number can be maximum 5 or 7 volunteers per room in 4 or 5 bunk beds (August or March). Western toilets and hot showers are available. The house has TV, PC with internet, free WIFI, fridge, kitchen with cooking facilities, common room. Laundry service near the house with the cost US$1 for 2 kg.
Breakfast, lunch & dinner are provided.
Food is local style and usually be rice, meat, fish and vegetables & Vietnamese soup. For vegetarians the choice is usually limited to rice, bread, vegetables, egg & tofu.
Volunteer is free to use kitchen for personage cooking.
By individual requirement, the single or twin room can be arranged.
The travel time to project from home is between 15-20 minutes by bus.
Explore our projects world-wide
Explore our Projects Database and find placements among over 800 volunteering opportunities in more than 40 countries.
Long-term Projects
You can see all the projects on a country leaving the Project Type field empty and selecting a country.
Short-term Projects
You can see all the projects on a country leaving the Project Type field empty and selecting a country.