Ho Chi Minh Physio Therapy Centre - South (VNM-52)
Brief description and main aims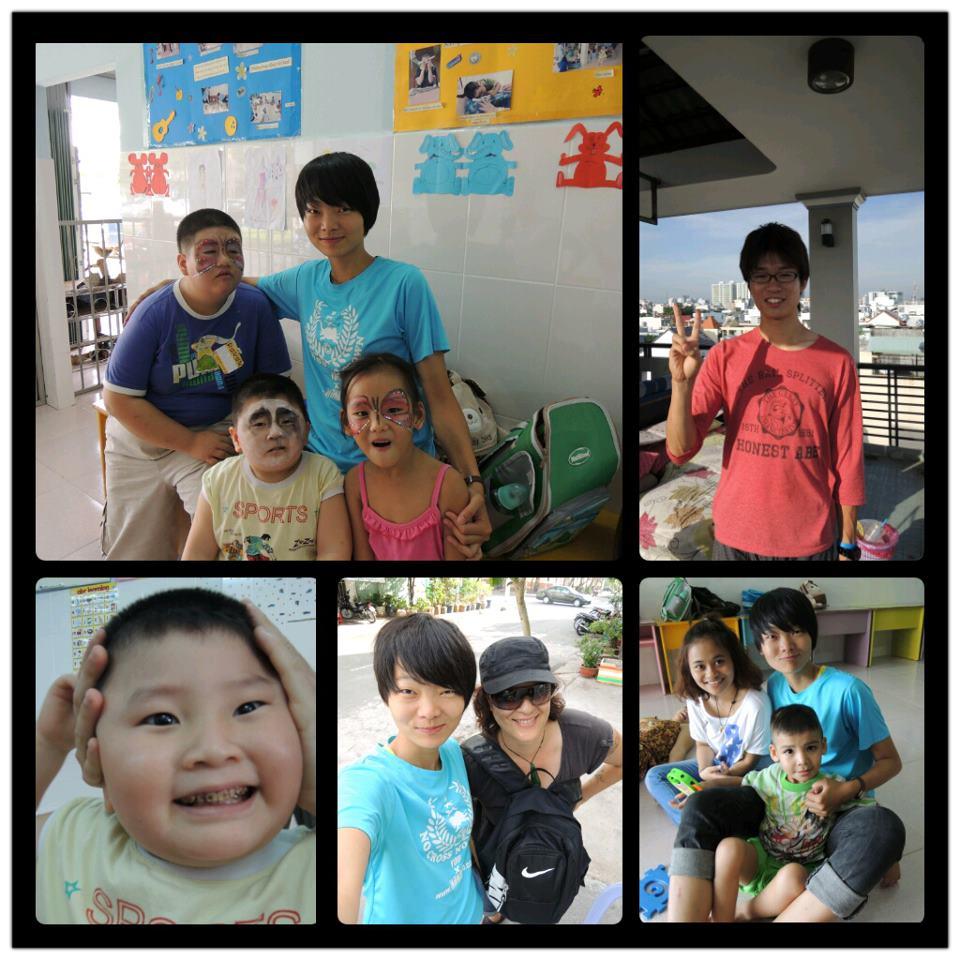 The Ho Chi Minh Physio Centre project began in 1979 as a joint humane project between 'Terre des Hommes' (Germany) and the Ministry of Labour, Invalids & Social Affairs of Vietnam, with the aim of providing rehabilitation for all paralysed children in South Vietnam. The centre opened in 1983, and in conjunction with many humane societies across the world has provided free health care to thousands of Vietnamese children. It provides rehabilitation treatment to adults & children who are usually referred here by their doctor or other hospitals.
The aim of the program is to jointly bring care, love and happiness to disadvantaged children through volunteers' activities.
Main Activities
The centre has three main purposes:

Rehabilitation: Treatments for children aged 5 – 15 years diagnosed with Cerebral Palsy, Congenital Motor Deformity amongst other conditions.

Training: Rehabilitative training and courses on taking care of a disabled child as well as other courses for local medical staff, students and family of disabled children.
Research: Ongoing research in fields such as Congenital Motor System deformity and treatments, Physiotherapy and the care of disabled children.
Most of the centre functions similar to a hospital, mainly focusing on orthopedics, with various rooms for different treatments including a daycare room for disabled children where they can receive physiotherapy, occupational therapy and speech therapy. The daycare has 5 teachers looking after 32 children, but not all attend everyday. Most of the children suffer from cerebral palsy, down's syndrome, congenital motor system deformity and other disabilities; from learning and cultural activities at the daycare, children can recover some motor function of the body and increase their awareness of the world around them.
Volunteer tasks
Volunteers will spend most of their time in the day-care room working with disabled children. Those who have sufficient experience may move to work in the more specialist Physiotherapy room.
At the project, you will take on two main roles, as a volunteer you will essentially be working as another member of local staff and as such must act accordingly. On the other hand, you are also there to care for and be a friend of the children.
When working with the local staff you will be required to assist them in providing basic rehabilitation exercises and therapy treatment for children. The staff will guide you and help you understand the need of each individual child. If you work in the dedicated physiotherapy room you will be instructed by the Doctors to perform more focused and specialized physiotherapy work with children and sometimes adults.
Back in the day-care room, one of the most important tasks is mealtimes when volunteers are expected to support local staff in feeding children who are unable to manage themselves. While this can at first seem somewhat overwhelming, you will feel more comfortable as you settle and understand the support needed due to a lack of local staff. The local staff will assign you to feed the easier children while they are in charge of the more difficult ones. As you become more familiar you will be expected to learn how to feed all the children. Quite different to the former, you will also help in practical activities such as preparing the room for lunch or naptime, cleaning and any other jobs required of you.
When caring for the children, you will soon realize that despite their disabilities they are simply regular children who want to play and have fun as much as any other child does! Volunteers are encouraged to share their love and enthusiasm through playing and educating with games, music and arts. Group activities with the children through songs or games always have a positive impact on interaction development. Some children can speak a little English and are always excited to practice with volunteers, a chance they don't often get at home. While playing and interacting with the children volunteers must set a positive example and remember to be firm with misbehaviour to help them understand what is right and wrong.
The timetable will be given on arrival with volunteers working 5 days a week (Saturday and Sunday off). Working hours from 8:30am to 11:30am, and again from 2:00pm to 5:00pm with a lunch break and time to rest in between. Volunteers will work 20 hours per week on average.
Volunteer requirements / Skills
Volunteers must be 18 years old minimum.
Volunteers should like to work with children
Show maturity and an initiative spirit
Volunteers should be patient open-minded, creative and active in that working environment.
Volunteers with a background or experience in medical work or disabilities will be able to work more closely with Doctors on specialized Physiotherapy. However, volunteers without experience or background will still be able to join in the daycare room work, as children are very excited when meeting volunteers.volunteers.
Location
Ho Chi Minh Centre is located in Tan Binh District, in the west of Ho Chi Minh City. It is easily reached on the bus and total travel time is around one hour. It can be more or less depending on traffic. It is in a densely populated area so all necessary amenities are close by.
Hosting Situation (Board and Lodging)
Volunteers will stay in a dormitory, sharing rooms with volunteers of other nationalities joining the same program. Normally, rooms are arranged with about 2-4 volunteers per room. In the busy time, the number can be maximum 5 or 7 volunteers per room in 4 or 5 bunk beds (August or March). Western toilets and hot showers are available. The house has TV, PC with internet, free WIFI, fridge, kitchen with cooking facilities, common room. Laundry service near the house with the cost US$1 for 2 kg.
Breakfast, lunch & dinner are provided.
Food is local style and usually be rice, meat, fish and vegetables & Vietnamese soup. For vegetarians the choice is usually limited to rice, bread, vegetables, egg & tofu.
Volunteer is free to use kitchen for personage cooking.
By individual requirement, the single or twin room can be arranged.
The travel time to project from home is between 15-20 minutes by bus.
Explore our projects world-wide
Explore our Projects Database and find placements among over 800 volunteering opportunities in more than 40 countries.
Long-term Projects
You can see all the projects on a country leaving the Project Type field empty and selecting a country.
Short-term Projects
You can see all the projects on a country leaving the Project Type field empty and selecting a country.