Hope Centre - North (VNM-16)
Brief description and main aims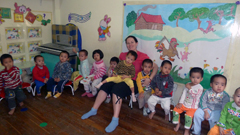 The aim of the program is to jointly bring care, love and happiness to the children through volunteers' activities.
The Hope Centre is a non-profit, non-government day care organization based in Hanoi for the care of mentally impaired children. This centre was founded in 1997 by Vietnamese enthusiastic teachers, and then in 2002, it was expanded with the support from an American NGO.
Currently there are 11 teachers; all of them graduated from Hanoi National University of Education or have background in special education. Ms. Nga, the director, is not also a teacher but also a doctor of Pediatrics. There are around 70 disabled children divided into 4 classes.
Main Activities
The centre provide opportunities for children with mental impairment by providing them with an education, and make them feel included with their local community. In particular, the centre provides assistance for those children suffering from developmental disabilities including Down's Syndrome, Autism and Cerebral Palsy. As well as early grade academic learning, the education programs include physical education and therapy, yoga, painting and poetry.
Volunteer tasks
Here are some possible tasks for the volunteer:
Caring for disabled children
Assisting teachers in classrooms
Assiting the teachers and children during lunch time
Calling for charity or Subscription (depends on volunteers)
Working hours:
A usual working day could be from 9 am to 4 pm with a lunch break from 11 am to 2 pm.
Travel to work: 40 minutes by bus.
Volunteer requirements / Skills
Volunteers should:
Like to work with children with dissabilities.
Be mature and take initiative.
Bevery patient and creative.
Be open-minded and sociable.
Be willing to learn more about the country and adapt to different working styles.
Be at least 18 years old
Preference: Volunteers with background or experience in medical work or special education. However, volunteers without experience or background will still be able to join.
Location
Hope Center is located in Ba Dinh district, around 5 kms away from the city center. This is a very crowded place with many shops. It takes around 30 minutes to get there from VPV office by bus.
Duration
Minimum: 4 weeks
Hosting Situation (Board and Lodging)
Volunteers will stay in a dormitory with rooms shared with other volunteers. Living conditions will be Vietnamese standard with shared bathroom, shared room with bunk-beds. Mattress, blanket, pillow and mosquito net are provided
Food will be provided at accommodation. Meals will be mostly local food, which vary from the daily cooking schedule.
During working days, volunteers may either have lunch outside or eat with the staff at Hope Centre. They have to inform the cook at the centre one day in advance if they want to eat there. Volunteres can also come back to eat at the volunteer house.
Explore our projects world-wide
Explore our Projects Database and find placements among over 800 volunteering opportunities in more than 40 countries.
Long-term Projects
You can see all the projects on a country leaving the Project Type field empty and selecting a country.
Short-term Projects
You can see all the projects on a country leaving the Project Type field empty and selecting a country.