Ky Quang center for disabled children- South (VNM-9)
Brief description and main aims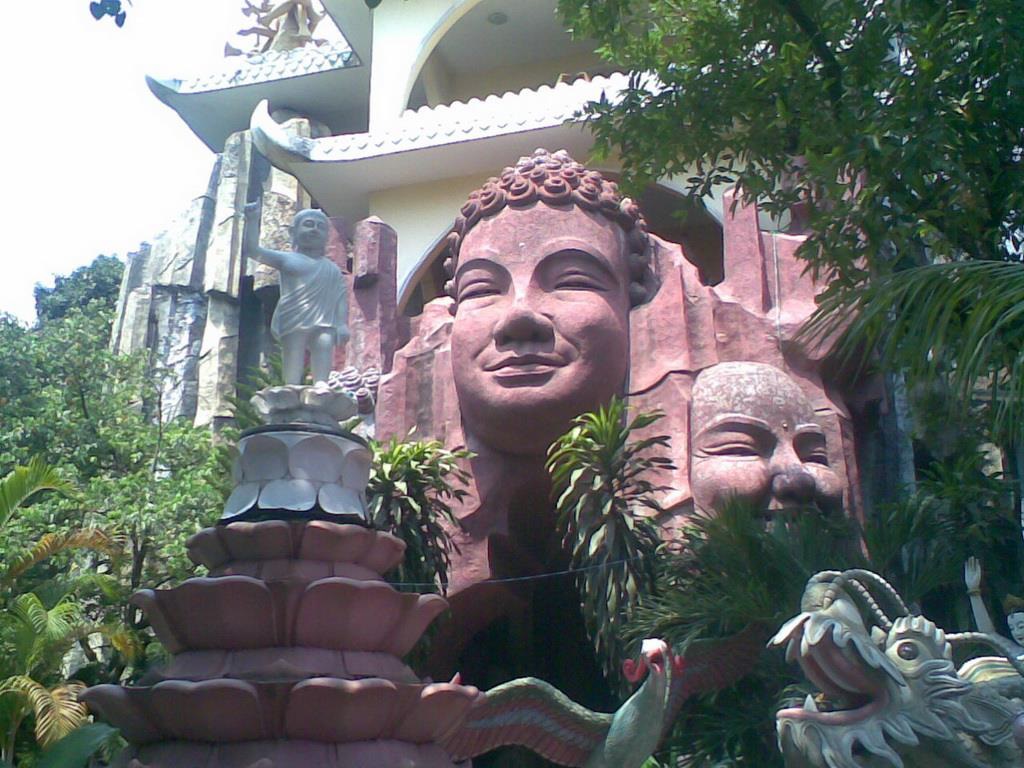 Ky Quang Pagoda was built in the early part of the 20th Century in 1924 and is relatively famous in Ho Chi Minh City. The pagoda is now a place of charity for unlucky children and a traditional medicine clinic for local residents. The Pagoda Orphanage was founded and is run by the 'Bonze Thich Thien Nhan'. It has 25 staff members who stay at the Pagoda to take care and bring up these orphans. The operation funding mainly comes from local benefactors, social organizations and international volunteers and visitors. The children here have unfortunate backgrounds; many have been abandoned by their parents and relatives, babies are often found at the front gate of the pagoda and then taken in.
Sometimes, the head monk receives phone calls from hospitals requesting him to take in deserted babies amongst other situations. At the moment, about 200 children and adults are living in the Pagoda, their ages ranging from 5 days old to 40 years old.
The aim of the program is to jointly bring care, love and happiness to disadvantaged children through volunteers' activities.
Main Activities
At the moment, about 200 children and adults are living in the Pagoda, their ages ranging from 5 days old to 40 years old. There is a day care-room that includes 35 disabled children at this moment suffering in particular from cerebral palsy, blindness or Down's syndrome. Here, they are fed with lunch and dinner, are interacted and played with, sleep and receive some basic therapy during the day. In the evening and night, they sleep in different rooms with other orphaned children with a mother figure who looks after them.
Volunteer tasks
Volunteers will spend most of their time in the day-care room working with disabled children. At the project, you will take on two main roles, as a volunteer you will essentially be working as another member of local staff and as such must act accordingly. On the other hand, you are also there to care for and be a friend of the children.
When working with the local staff you will be required to assist them in providing basic rehabilitation exercises and therapy treatment for children. The staff will guide you and help you understand the need of each individual child. Staff are always willing to learn new techniques or methods in therapy, if volunteers have a background in therapy work, they can spend time with local staff to offer some basic training and information.
Back in the day-care room, one of the most important tasks is mealtimes when volunteers are expected to support local staff in feeding children who are unable to manage themselves. While this can at first seem somewhat overwhelming, you will feel more comfortable as you settle and understand the support needed due to a lack of local staff. The local staff will assign you to feed the easier children while they are in charge of the more difficult ones. As you become more familiar you will be expected to learn how to feed all the children. Quite different to the former, you will also help in practical activities such as preparing the room for lunch or naptime, cleaning and any other jobs required of you.
When caring for the children, you will soon realise that despite their disabilities they are simply regular children who want to play and have fun as much as any other child does! Volunteers are encouraged to share their love and enthusiasm through playing and educating with games, music and arts. Group activities with the children through songs or games always have a positive impact on interaction development. You are free to use the materials and toys there or bring your own. Drawing & painting is good for them, as well as simple puzzles or building blocks. Anything constructive is useful for them, as well as fun. While playing and interacting with the children volunteers must set a positive example and remember to be firm with misbehaviour to help them understand what is right and wrong.
The timetable will be given on arrival with volunteers working 5 days a week (Saturday and Sunday off). Working hours from 8:30am to 11:30am, and again from 2:00pm to 5:00pm with a lunch break and time to rest in between. Volunteers will work 20 hours per week on average.
Volunteer requirements / Skills
Volunteers must be 18 years old minimum. Volunteers should like to work with children, show maturity and an initiative spirit. Besides this, volunteers should be patient, open-minded, creative and active in that working environment. Volunteers with a background or experience in medical work or disabilities will be able to work more closely with nurses on basic physiotherapy. However, most volunteers will be expected to work in the day-care room where support is especially needed.
Location
Ky Quang Pagoda is located in Go Vap District, in the north of Ho Chi Minh City. It is easily reached on the bus and total travel time is about 1 hour, including both bus & walking. It is in a densely populated area so all necessary amenities are close by.
Duration
Minimum: 2 weeks
Maximum: 20 weeks
Hosting Situation (Board and Lodging)
Volunteers will stay in a dormitory, sharing rooms with volunteers of other nationalities joining the same program. Normally, rooms are arranged with about 2-4 volunteers per room. In the busy time, the number can be maximum 5 or 7 volunteers per room in 4 or 5 bunk beds (August or March). Western toilets and hot showers are available. The house has TV, PC with internet, free WIFI, fridge, kitchen with cooking facilities, common room. Laundry service near the house with the cost US$1 for 2 kg.
Breakfast, lunch & dinner are provided.
Food is local style and usually be rice, meat, fish and vegetables & Vietnamese soup. For vegetarians the choice is usually limited to rice, bread, vegetables, egg & tofu.
Volunteer is free to use kitchen for personage cooking.
By individual requirement, the single or twin room can be arranged.
The travel time to project from home is between 15-20 minutes by bus.
More Information
What to bring:
- A sleeping mat
- Bathing suit
- Mosquito repellent,
- Books, toys, games, etc for children.
Explore our projects world-wide
Explore our Projects Database and find placements among over 800 volunteering opportunities in more than 40 countries.
Long-term Projects
You can see all the projects on a country leaving the Project Type field empty and selecting a country.
Short-term Projects
You can see all the projects on a country leaving the Project Type field empty and selecting a country.