Fundación Cultural París-Tegu (HON-65)

Type: Cultural Exposure, Youth, Education, Disadvantaged, Community, Children, Art/Culture - Country: Honduras
Brief description and main aims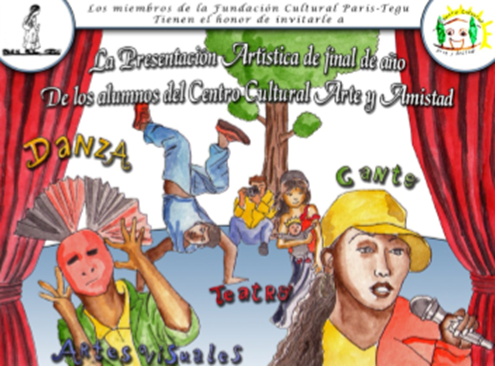 Fundación Cultural París-Tegu is a Franco-Honduran non-profit and non-governmental organisation founded in 2006 with the main aims to undertake educational and sociocultural projects for the protection and development of at-risk youth, aged 13-20, in Tegucigalpa, and to develop cultural exchanges and increase solidarity bonds between France and Honduras.
It is part of the Centro Cultural Arte y Amistad – CCAA with programmes to propose activities that favour personal growth and development of abilities, promote moral values and citizenship that will help youth to get prepared for their immersion into labour life and citizenship, support youth to continue studying proposing an adapted pedagogical orientation, and prevent the risks and help youth overcome their difficulties.
Main Activities
The main programmes of the organisation are:
Artistic and Cultural Programme: artistic workshops on dance, theatre, visual arts, cinema, music, handicrafts.
Educational Programme: tutoring and scholarship programmes.
Social Programme: mentoring, home visits, meetings with family and schools & high schools.
Prevention Programme: awareness-raising campaigns, training workshops, pedagogical materials and presentations in schools & high schools.
Social & Integration Bond Programme: game days, sports events, field trips, cultural escapades, workshops for parents.
Citizenship Programme: promoting an active citizenship participation among youth.
Volunteer tasks
The volunteer can participate in:
animation and scheduling of the artistic and cultural activities
artistic activities (theatre, dance, plastic arts)
decoration of the centre (muralism, handicrafts)
sociocultural animations (discovery activities, excursions)
creation of a photography or video workshop
creation of illustrations (for the website, communication tools)
field trips
sports activities
making and selling products for fundraising purposes
educational, social and health activities: training and awareness-raising activities, training of leaders, tutoring, and health education
Volunteer requirements / Skills
The volunteer should:
be at least 18 years old
have experience working with youth
demonstarte creativity, curiosity, flexibility, enthusiasm, and energy
be open and friendly
have skills and knowledge to develop different artistic workshops
Fluency in Spanish is preferred but a fair level of Spanish is acceptable.
Location
The project is locate in Tegucigalpa, Francisco Morazán.
Hosting Situation (Board and Lodging)
The volunteer will live with a host family.
More Information
The project is available to start in August and February every year for 6-12 months.
Social media:
Website: www.paris-tegu.org

Facebook Profile: Paris Tegu

Facebook Profile: Ccaa Arte Amistad
You can request more information of this Project contacting ICYE Honduras: incoming@icye.hn
Explore our projects world-wide
Explore our Projects Database and find placements among over 800 volunteering opportunities in more than 40 countries.
Long-term Projects
You can see all the projects on a country leaving the Project Type field empty and selecting a country.
Short-term Projects
You can see all the projects on a country leaving the Project Type field empty and selecting a country.