Casa B (COL-72)

Type: Community, Communication, Art/Culture - Country: Colombia
Brief description and main aims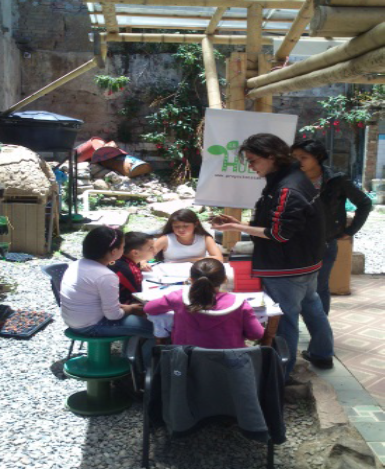 CASA B works to build an intercultural dialogue between the people of the community, the city of Bogota and the international community with the main objective of creating a Life Plan and promote cultural exchange.
Main Activities
Some of Casa B's main activities are:
The Evening School: A non-formal educational program created together with the children. They choose a topic and a specialist is sought for.
Peripheral Astronomy: This project of science ,art ,and technology, focused on creating new dynamic processes of scientific education and consolidation of communities in terms of territory and collective social identity.
The Dragon Library: A complete selection of 1.000 books and different audiovisual media of various disciplines and themes exclusively curated for children between 6-14 years of age. Workshops are offered to introduce children to the world of reading and writing
Volunteer tasks
The volunteer is expected to:
Create and run their own workshop (based on their skills and interests)
work as an assistant for the organization
be a communications promoter: provide support in all issues concerning events, advertising and community meetings in the neighborhood and beyond. Manage social media activities on Facebook and Instagram.
Socialize with the children: assisting activities
Volunteer requirements / Skills
The volunteer should:
be committed to the community processes

demonstarte flexibility at work, be open to meet people and constantly communicative with adults, youth and children.

be proactive, resourceful, and relaxed

be independent and able to work with out supervision
Location
Carrera 2 bis no 6d -30, Bogotá -Cundinamarca.
Barrio Belen is a historical neighborhood located in Bogota's city centre that has been threatened by many political and economic interests (gentrification).Belén is as old as Bogotá. During the colony was a neighborhood of indigenous and mestizos and later was consolidated as one of the main centers of migration arrival from rural areas of Boyacá and Cundinamarca.
Hosting Situation (Board and Lodging)
The volunteer will live with a host family.
Explore our projects world-wide
Explore our Projects Database and find placements among over 800 volunteering opportunities in more than 40 countries.
Long-term Projects
You can see all the projects on a country leaving the Project Type field empty and selecting a country.
Short-term Projects
You can see all the projects on a country leaving the Project Type field empty and selecting a country.