Social Welfare Project at Phuc Tue Center (VNM-51)

Type: Health: Disability - Country: Vietnam
Brief description and main aims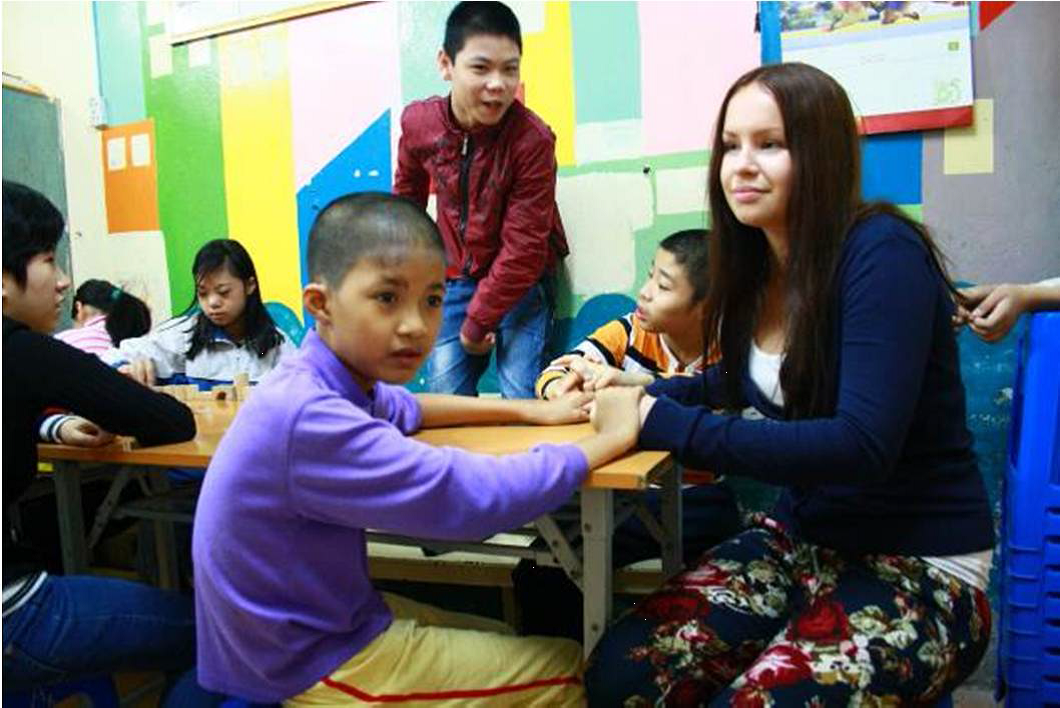 The Phuc Tue Caring Center is a non-profit, non-government day care organization based in Hanoi for the care of mentally and physically impaired children. The Center was established in June 2001. There are now 2 centers around Hanoi that provide care and education for approx 50 children and young people (aged 2 to 22yrs old) who are suffering from the effects of agent orange, autism, down syndrome and Japanese encephalitis. The Centre`s aim is to look after these children and help to integrate them into normal society.
Number of staff: 12 teachers. All of them graduated from Hanoi National University of Education. Ms. Huong, the director, is also the enthusiastic teacher that founded this center. Number of children: Approximately 74 disabled children divided into 4 classes. The number of children changes from time to time.
The center's mission is to provide opportunities for children with mental and physical impairment to receive an education and to feel included with their local community. In particular, the center provides assistance for those children suffering from developmental disabilities including Down's Syndrome, Autism and Cerebral Palsy.
Main Activities
The aim of the program is to jointly bring care, love and happiness to the children through volunteers' activities.
Volunteer tasks
Here are some possible tasks that you can do there:
Caring for and playing with disabled children
Helping the children eat during lunch time
Calling for charity or Subscription (depends on volunteers)
Charity campaign for books, old clothes, old shoes for the children (depends on volunteers)
Working hours: Volunteers will work from 8.30 am to 4 pm (Mon – Fri) with a lunch break from 11 am to 2 pm. You can have lunch at the center with the staff or eat out; there are a lot of street restaurants around.Travel to work from volunteer accommodation: about 1 hour by bus.
Volunteer requirements / Skills
Volunteers should like to work with handicapped children as well as have maturity and initiative spirit.
Preference: Volunteers with background or experience in medical work or special education. However, volunteers without experience or background will still be able to join in different work as children are very excited with foreigners. Besides, volunteers should be very patient and in the mean time, creative and active in that working environment.
Age: 18 or over
Minimum stay preferred 4 weeks.
Be open-minded and sociable.
Be willing to learn about different culture and adapt to different working style.
Location
Phuc Tue center is situated in Tay Ho District in North West Hanoi, close to West Lake – the largest lake in Hanoi. This is a very lively and convenient area.
Hosting Situation (Board and Lodging)
Volunteers will stay in a dormitory with rooms shared with other volunteers. Living conditions will be Vietnamese standard with shared bathroom, shared room with bunk-beds. Mattress, blanket, pillow and mosquito net are provided. Food will be provided at accommodation. Meals will be mostly local food, which vary from the daily cooking schedule. During working days, volunteers will have lunch outside of the centre by themselves.
More Information
Volunteers needed: 2.
Explore our projects world-wide
Explore our Projects Database and find placements among over 800 volunteering opportunities in more than 40 countries.
Long-term Projects
You can see all the projects on a country leaving the Project Type field empty and selecting a country.
Short-term Projects
You can see all the projects on a country leaving the Project Type field empty and selecting a country.