EROS School for Specialized Education (ZAF-7)

Type: Youth, Education, Disabled, Children - Country: South Africa
Brief description and main aims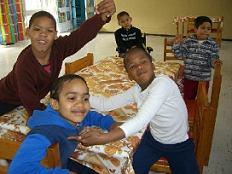 Eros School can accommodate up to 350 learners. We offer dual-medium academic tuition (English and Afrikaans) from the Pre- Grade R level up to the Grade 9 level. Eros seeks to holistically educate and develop the unique abilities and desires of each of its students, keeping in mind their transition from childhood into adulthood. We also pledge to assist every individual to develop their learning skills and attitudes and to achieve their independence to the best of their ability.
We help:
Learners suffering from Cerebral Palsy who are physically challenged due to injuries to the immature brain.
Learners who have average or above average intelligence, but who still struggle to progress academically due to specific learning difficulties.
Other physically challenged learners with muscular dystrophy, spina bifida, syndromes or genetic abnormalities.
Main Activities
Eros School aims to serve learners with Cerebral Palsy as well as those learners with learning difficulties. A normal academic curriculum is followed and the individual needs of each learner is holistically catered for by our comprehensive staff. Academic Educators provides the following for learners:
Speech Therapists
Physiotherapists
Occupational Therapists
Psychologists
Nursing care
Nurse Aids
Drivers
General Assistants
Assistance from Volunteers
Volunteer tasks
The volunteers
assist Teachers and Therapists in enhancing the learning experiences of our special needs learners
act as mentors and older brothers and sisters to our learners
facilitate extra mural activities at the school
Sport activities for the learners with disabilities are organised at a Provincial as well as on a National Level, volunteers are always welcome to assist.
Volunteer requirements / Skills
The volunteer should:
Speak English
Be a team player
Be able to organize and implement activities and programmes
Have a passion for education and working with disabled children
Any experience in sports, dance, music, environmental programmes for the relevant age group, arts and crafts, is welcomed.
Location
Athlone, Cape Town
Explore our projects world-wide
Explore our Projects Database and find placements among over 800 volunteering opportunities in more than 40 countries.
Long-term Projects
You can see all the projects on a country leaving the Project Type field empty and selecting a country.
Short-term Projects
You can see all the projects on a country leaving the Project Type field empty and selecting a country.