Shakthidhama - Women's Rehabilitation and Development Centre (IND-35)

Type: Health: Rehalibitation - Country: India
Brief description and main aims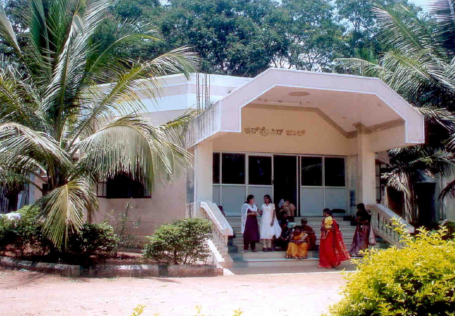 Shakthi Dhama was founded on Feb.1997 with a broad spectrum of objectives in order to ameliorate Socioeconomic problems of women in distress. The main focus of the project is to rehabilitate homeless and estranged women toward economic self-reliance.
We have built enough buildings to accommodate nearly 80 women .We have an administrative block, two dormitory building to house 80 women, a modern kitchen and a spacious dining hall with the required amenities.
Main Activities
Work as a therapy: Work in Shakthi Dhama is conceived as a therapy. Continuous involvement in work helps the inmates overcome lingering delinquencies that they might have acquired during the past life. Inmates cook their own food, grow vegetables and fruits in the kitchen garden, and maintain their dormitories, kitchen and the premises clean. Surplus of the grown vegetables and fruits are sold.
Medical Care: Two of our trustees are physicians and they provide medical care. The JSS hospital not only provides psychiatric assistance but also conducts screening for HIV and STDs. Part-time physicians also attend to the medical needs of the residents.
Adult Literacy and Vocational Training: Few of the inmates are literate and have passed SSLS and PUC. They function as teachers to other inmates who are illiterate. They conduct regular literacy classes. Thanks to the Janashikshana trust of JSS institution, which has been providing training in tailoring, screen-printing, soft doll making and embroidery greeting card making to the inmates. We hope to impart other trainings like bakery etc. to achieve economic self-reliance.
Cultural Programmes and entertainment: National festivals and other festivals are celebrated. Television and tape recorders provide entertainment to the inmates. There is also a provision for the inmates to play indoor and outdoor games.
Volunteer tasks
During the morning the volunteer needs to help in the kitchen until 11am. Afterwards they must check if the women have cleaned their rooms properly . In the afternoon they might need to write counseling reports or hang out with the women or look after their children while they have to do some work.
For the women the day starts at 6am . They pray, have their morning coffee and go to work. Some cook, others help in the garden or clean. After breakfast most of them have time to clean their rooms and wash themselves. Later women work on stich greeting cards or sew bags. Tee is around 5pm and later women will watch TV until 9pm.
Volunteer requirements / Skills
The volunteer should:
be very interested in learning new things and be intrested and invested in the assigned work
have friendly nature
love to communicate with women and be someone who can feel grateful to help others
Location
The project is located in Mysore.
Hosting Situation (Board and Lodging)
Food and accommodation are provided by the project.
Explore our projects world-wide
Explore our Projects Database and find placements among over 800 volunteering opportunities in more than 40 countries.
Long-term Projects
You can see all the projects on a country leaving the Project Type field empty and selecting a country.
Short-term Projects
You can see all the projects on a country leaving the Project Type field empty and selecting a country.