Foundation for Restoring Human Dignity (FORHD) Children Home (Makkala Mane) (IND-17)

Type: Health: Rehalibitation - Country: India
Brief description and main aims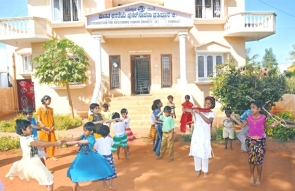 Foundation for Restoring Human Dignity (FORHD) is a registered wholly Charitable Trust approved by the Government of India vide No.DIT(E) 80G/154/2001-02.
FORHD's vision is to restore the dignity of self to children, women and men, who are victims of their circumstances, by offering them avenues of help and directions for their future.
Main Activities
Thorugh our activities we create awareness of the need for rehabilitating prisoners and their families as a crime prevention measure and support artists through 'Art for A Cause'. The programmes , which are held bi-annually, have drawn the attention and the participation of the elite and the common man and also mobilized funds.
Volunteer tasks
The entire activity of FORHD is supported by volunteers with minimal paid staff.
There are volunteers who mobilize funds and participate in organizational matters both regularly and periodically.
Volunteers from Germany sponsored through ICDE are being hosted by FORHD since 2008. The female volunteers from Germany (Normally two each year) help the home as follows:
Waking up children at the prescribed hour, guiding them regarding personal care and getting ready for school.
Helping them at breakfast and escorting the little ones to the school.
Coordinating with teachers at school and helping them to enhance the childrens' learning ability.
Help the children with their homework and socialization programmes at home and with the neighbourhood institutions.
On holidays and weekends taking children for story/music/yoga sessions and excursions in the neighborhood.
Accompanying children during their visits to their parents – in the prison with the due permission of the authorities and at home during holidays.
Helping evaluation of the progress of children.
FORHD visualizes volunteers' bonding with the children just as elder sisters of a home and human concerns with their families.
Volunteer requirements / Skills
The volunteer should:
Know English.
Be open-minded .
Be able to adjust
Have a helping Nature.
Be hard Working.
Location
FORHD, 'Makkala Mane' (Home for the Children) is located in Mysore city, in the midst of an elite residential area with excellent educational and other facilities. Situated at 4KMs from city centre, tt is well connected by public transport.
Hosting Situation (Board and Lodging)
The volunteer will live in a single room with another volunteer, if there is another volunteer at the time she participates. Food will be provided by the project.
More Information
We would like to host only female volunteers
Explore our projects world-wide
Explore our Projects Database and find placements among over 800 volunteering opportunities in more than 40 countries.
Long-term Projects
You can see all the projects on a country leaving the Project Type field empty and selecting a country.
Short-term Projects
You can see all the projects on a country leaving the Project Type field empty and selecting a country.