Fundación Cepytin (COL-7)

Type: Disabled, Development, Delinquency, Community, Communication, Children - Country: Colombia
Brief description and main aims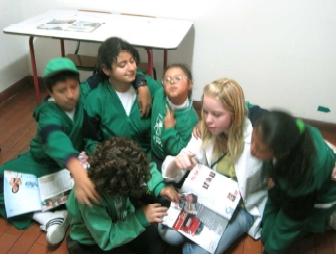 Cepytin aims to provide youngsters and children with aftereffects of neurological lesions the opportunity to accept and respect their differences.
It offers, through a competent team, therapeutic and educational treatment to children and young people with a disability. The ultimate aim is to work toward their participation and belonging in their families and integration in society. It does this though inclusive workshops designed for individual working speed.
Main Activities
Some of Cepytin's main activities are:
Help and support educational programs with children, who have low and medium mental disability and include their families in the integrational progress (integrational program with the National University)
Help in physical therapies (physiotherapy)
Teach computers
Practice sports, dancing and music
Enable parents to help their children in the school and with their therapies
Enable parents to help their children to start their own business for example with handicrafts
Accompany occasional school trips (cinema, botanical garden...)
Activities and homework in the afternoon
Afternoon care for children from other schools
Volunteer tasks
The volunteer is expected to:
Help in the preparation of lessons
Help and participate in sport, dance, leisure, music, etc. activities
Participate in community activities
Take care of equipment
Support therapists and pedagogues in their work
Provide support during meal times
Develop their own workshops and activities for the children e.g. English classes
Volunteer requirements / Skills
The volunteer should be someone who:
is looking to help in the social inclusion and learning process of disabled persons, ideally with experience in this field
has abilities in art, sports or other things he/she would be able to teach in workshops to the children
who is open-minded in regards to disabilities and adapts easily to various circumstances
Showing independence and iniciative is very important in this project!
Important: You need to be proactiveand motivated to work with disabled people. This role requires tolerance and patience. The volunteer must have the necessary qualities to work with people with various types of disability. They should be able to learn from the kids, understanding their condition and background.
Location
Cra73 N. 7c-39 -Bogotá -Cundinamarca.
Bogotá is the capital of Colombia the political, economic, administrative, industrial, artistic, cultural, and sports center of the country. It is the biggest city in Colombia, the third highest in the world above sea level and known for its high number of universities, libraries and cultural events. It has a population estimated at around 10 million.
Hosting Situation (Board and Lodging)
The volunteer will live with a host family.
Explore our projects world-wide
Explore our Projects Database and find placements among over 800 volunteering opportunities in more than 40 countries.
Long-term Projects
You can see all the projects on a country leaving the Project Type field empty and selecting a country.
Short-term Projects
You can see all the projects on a country leaving the Project Type field empty and selecting a country.