Casa Hogar AmaneSer (COL-5)
Brief description and main aims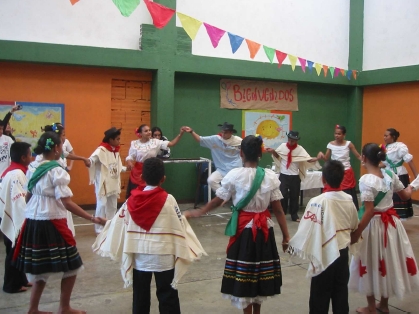 The project works with children between 5 and 17 years old. At the moment 120 children (divided into two groups) are helped by the project. Each group stays four hours : there is a group in the morning and a group in the afternoon. AmaneSer takes care of the children, while they are not studying. This is to protect them from the bad influences of the streets (drugs and prostitution). Also, a lot of them come from difficult family situations (e.g.domestic abuse).
Main Activities
The project offers different activities for the children: they do workshops in dance, theatre and hand crafts; they talk in smaller groups about topics like drugs, sexual health, pregnancy, prostitution and other problems of the neighborhood. They also practice sports, watch movies or go out to play in the park. The children have the possibility to do their homework and they get free meals. There are a lot of professionals like psychologists and social workers who work withe children and their families on personal development.
Volunteer tasks
The volunteer should:
Participate in the activities of the project with the children
Help them with their homework
Give out snacks and meals
Support professionals in providing activities and offer activities (e.g. language classes, sports)
Join them on home visits
The volunteer can work all the day with the children but he can also help in the office and kitchen if she/he wants to.
Volunteer requirements / Skills
The volunteer should:
be interested in working with children
be very creative, and spontaneous
have a high of patience because activities often don't work out as they should
be very assertive, be able to show authority and must be open-minded towards religiousness.
No gender is given a preference.
Important: You need to be proactive, motivated to work with young people, full of ideas. Understanding the internal dynamics of the organization and the complicated background of youngsters you will be working with.
Location
Cl 21 No.16-46 -Bogotá -Cundinamarca.
Bogotá is the capital of Colombia the political, economic, administrative, industrial, artistic, cultural, and sports center of the country. It is the biggest city in Colombia, the third highest in the world above sea level and known for its high number of universities, libraries and cultural events. It has a population estimated at around 10 million.
The project is situated in the tolerance zone of barrio SanteFe, one of the poorest areas of Bogota and blighted with a range of social problems.
Hosting Situation (Board and Lodging)
The volunteer will live with a host family.
Explore our projects world-wide
Explore our Projects Database and find placements among over 800 volunteering opportunities in more than 40 countries.
Long-term Projects
You can see all the projects on a country leaving the Project Type field empty and selecting a country.
Short-term Projects
You can see all the projects on a country leaving the Project Type field empty and selecting a country.