Working with Mentally and/or Physically Disabled People (GER-6)

Type: Health: Disability - Country: Germany
Brief description and main aims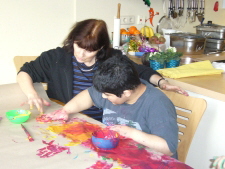 ICJA offers different projects which work together with people with mental or physical disabilities. Occasionally, our volunteers work in schools which also teach children with disabilities in integrative classes. There are also special educational centers for young people with mental or learning disabilities that prepare them for the job market. Other facilities want to integrate handicapped adults within the job market and give them the opportunity to work in companies where they are trained and socially included.
Project placements for people with mental or physical disabilities are usually either assisted living facilities for people with disabilities or places where they produce handicrafts or simple industrial products.
Volunteer tasks
The volunteers' main task in these projects is to help people with special needs in their day to day. That means talking to them, supporting them with their work and carrying out activities with them in their free time as well as to helping them with daily activities like eating and dressing. Sometimes, the volunteers will be confronted with physical work.
Volunteer requirements / Skills
The volunteers who wish to work with people with special needs should be prepared to accept them and have a lot of patience. You should also be prepared to assist the professional stuff in everyday caring tasks.
Hosting Situation (Board and Lodging)
When working at project with people with special needs, the volunteer may be placed with a host family or live at the project.
More Information
Working in such projects gives the volunteers a chance to meet and familiarise with people that have different kinds of disabilities, their special needs, their cheerfulness, their personal abilities and their living situation in German society. Volunteers will also learn about methods of how to teach them new skills. Working with people with special needs often allows volunteers to experience many traditional, religious and cultural events, especially if the volunteer work in an anthroposophic place.
Anthroposophic residences are social-therapeutic living- and working communities for people with special needs, based on antroposophic principles and ideas. Here, people with and without disabilities share their life and work together. The therapeutic working areas can be: bakery, gardening, carpentry, domestic work, kitchen, repairing. Working in such a community means for you that you will be working with idealist people who believe in this alternative way of life. Often they do not make a clear definition between working hours and private life. This means that you will have to be open for this kind of life style. Also take into consideration that these residences are mostly situated in the country side.
Explore our projects world-wide
Explore our Projects Database and find placements among over 800 volunteering opportunities in more than 40 countries.
Long-term Projects
You can see all the projects on a country leaving the Project Type field empty and selecting a country.
Short-term Projects
You can see all the projects on a country leaving the Project Type field empty and selecting a country.